Multiport Threaded Diverting Valves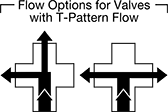 Valve

Type:

Plug

For Use

With:

Air,

Argon,

Helium,

Krypton,

Neon,

Oil,

Water,

Xenon
Seal

Material:

Fluoroelastomer Rubber
Divert the flow of compressed air and other media to multiple pieces of equipment. Turn the handle to direct flow to multiple outlet ports. Valves cannot shut off flow.
Valves with T-pattern flow direct flow from the inlet port to two of the three outlet ports at reduced capacity.
For technical drawings and 3-D models, click on a part number.
Pipe
Size

Max.

Pressure

Temp.




Range,

°F

End-to-End




Lg.

Mounting
Fasteners Included

No.


of
Thread
Size

Each

Brass Body

NPT Female × NPT Female × NPT Female × NPT Female

1/4

250 psi @ 70° F
-60° to 400°
1

7/8

"
No
4

1/4

"-20

00000000
0000000
Sanitary Diverting Valves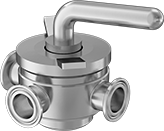 Designed to direct the flow of liquids in food, dairy, and chemical-processing facilities, these valves can be fully disassembled for clean-out-of-place (COP) processes. They connect to your line with quick-clamp sanitary fittings, also known as tri-clamp connections, which are easier to remove and sanitize than threaded connections. You'll need a gasket and clamp to connect them to another quick-clamp fitting (not included). These valves are 3-A certified to meet sanitary design standards.
Made of 316 stainless steel, these valves won't corrode from frequent washdowns with harsh cleaners. The O-rings and seals are made from EPDM, which holds up to water, detergents, chemicals, and steam. They're also FDA compliant for direct contact with food.
When you open or close these valves, a tapered plug slides in or out to direct the flow. Unlike ball valves, this plug design doesn't have crevices between the seal and the valve body where contaminants could be trapped. Any surfaces that liquids touch are polished to extreme smoothness, so there's nowhere for bacteria to hide. Liquids with abrasives, such as a smoothie with seeds, should not be used with this valve—if the surface of the plug is scratched or the seal is damaged, your liquids can be contaminated.
The T-pattern flow lets you direct liquids from the inlet to either outlet at full capacity, or to both outlets at reduced capacity. You can use any port as an inlet or an outlet—all three are full port and do not restrict flow. The long handle gives you plenty of leverage, so these valves are easy to open and close. The plug has a chrome plating to help it slide easily, and the seat is made from slippery PTFE to reduce friction from the handle, making sure these valves operate smoothly.
Flow coefficient (Cv) is the amount of water (in gallons per minute) at 60° F that will flow through a fully open valve with a difference of 1 psi between the inlet and the outlet.
For technical drawings and 3-D models, click on a part number.
ID
OD
Flow
Pattern
Flow
Coefficient


(Cv)

Max.


Pressure

Temp.




Range,




°F

End-to-End




Lg.

Surface
Smoothness
Specifications
Met
Each

316 Stainless Steel Body

Quick Clamp × Quick Clamp × Quick Clamp

1

3/8

"
1

1/2

"
T-Pattern
Not Rated
55 psi @ 70° F
-20° to 300°
5

13/16

"
23 microinch
3-A Certified 51-01, FDA Compliant 21 CFR 177.2600
00000000
0000000
1

7/8

"
2"
T-Pattern
Not Rated
55 psi @ 70° F
-20° to 300°
6

13/16

"
23 microinch
3-A Certified 51-01, FDA Compliant 21 CFR 177.2600
00000000
000000
2

3/8

"
2

1/2

"
T-Pattern
Not Rated
55 psi @ 70° F
-20° to 300°
8

1/4

"
23 microinch
3-A Certified 51-01, FDA Compliant 21 CFR 177.2600
00000000
00000000