Easy-to-Weld

Grade 9 Titanium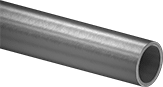 Yield

Strength:

105,

000 psi

Hardness:

Not Rated
Temper

Rating:

Not Rated

Fabrication:

Stress Relieved
Grade 9 titanium has less aluminum and vanadium than Grade 5, so it's easier to weld but not as strong.
For technical drawings and 3-D models, click on a part number.

Certificates with a traceable lot number are available for these products. Download certificates from ORDER HISTORY after your order ships.
Wall


Thick.

OD
OD
Tolerance
ID
ID
Tolerance
Straightness
Tolerance
Specifications
Met

1 ft.




Lg.

3 ft.




Lg.

5 ft.




Lg.

0.016"

1/4

"
0" to 0.004"
0.218"
-0.003" to 0.003"
0.025" per ft.
SAE AMS4945
0000000
0.019"

3/8

"
0" to 0.004"
0.337"
-0.003" to 0.003"
0.025" per ft.
SAE AMS4945
0000000
0.02"

1/4

"
0" to 0.004"
0.21"
-0.003" to 0.003"
0.025" per ft.
SAE AMS4945
0000000
0.026"

1/2

"
0" to 0.004"
0.448"
-0.003" to 0.003"
0.025" per ft.
SAE AMS4945
0000000
0.028"

3/8

"
0" to 0.004"
0.319"
-0.003" to 0.003"
0.025" per ft.
SAE AMS4945
0000000
0.032"

5/8

"
0" to 0.004"
0.561"
-0.003" to 0.003"
0.025" per ft.
SAE AMS4945
0000000
0.039"

3/4

"
0" to 0.004"
0.672"
-0.003" to 0.003"
0.025" per ft.
SAE AMS4945
0000000
0.051"
1"
0" to 0.004"
0.898"
-0.003" to 0.003"
0.025" per ft.
SAE AMS4945
0000000