Character Punches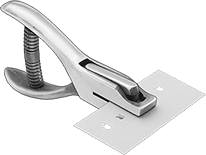 Punch holes, letters, or numbers through copier paper, laminated cardstock, and business cards.
To Order: For the two-character punch, please select two characters (0-9, A-Z) in any combination.
Paper Hole Punches


1-Hole
Punch with
Cushion-Grip
Handle

1-Hole
Punch with
Spring-Loaded
Handle
Holes punches with a spring-loaded handle are good for frequent use.