Plastic-Coated

Stainless Steel Cable Ties

Fold Over
The plastic coating on these ties adds an additional level of corrosion and abrasion resistance over other stainless steel cable ties.
Use the optional tensioning tool for more tension than hand tightening.
Conformable Cinching Straps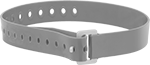 Hold bundles tightly with these cinching straps that conform to the shape of the material. They resist chemicals.