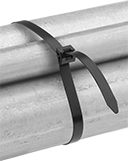 A
These strong, wide ties are often used as an alternative to metal strapping.
Acetal and PPS ties resist moisture and chemicals.
Stainless Steel Cable Ties

Solid Locking
For use in the harshest environments, these ties withstand chemicals and UV rays.
Solid locking ties have a locking ball in the head for a strong hold.
Use the optional tensioning tool for more tension than hand tightening.