Flashlights

A

B

C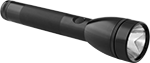 D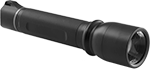 E

F

G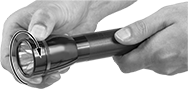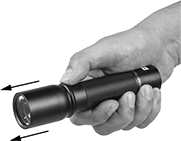 Slide Focus

Uniform Beam
These flashlights are built to handle everyday use. They have a slip-resistant grip to ensure a secure hold.
LED flashlights last longer, are more efficient, and generate less heat than xenon and krypton flashlights. Xenon and krypton flashlights have the same lighting technology as found in flash cameras. Xenon bulbs last longer than krypton.
Flashlights with a uniform beam are especially good for close-up tasks and inspection work. Flashlights with a bull's eye beam have a bright center for long-distance illumination.
Adjustable-beam flashlights change from a wide floodlight to a narrow spotlight by moving the head. Twist-head focus flashlights require two hands to adjust the beam. Slide-focus flashlights allow one-hand operation; slide the head forward and back with your thumb.
Flashlights that cannot be sold to Canada are restricted by local energy efficiency requirements.
Note: Battery life is significantly reduced when flashlights are used at the high-beam light setting.