Tool Trays for Railings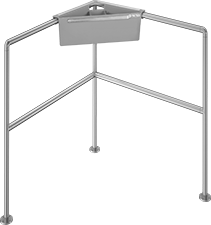 Shown Mounted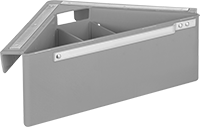 Tray
Handy on forklifts and scaffolding, these trays hang on square and rounded rails to keep tools and supplies waist height. Hang your tool belt or additional tools on the exterior metal bar. Two magnetic strips along the top edge hold components such as screws and screwdriver bits so they don't get lost. These trays secure with bolts and wingnuts, so you can fasten them quickly and move them from job to job.
For technical drawings and 3-D models, click on a part number.
For
Maximum
Rail Width
Length
Width
Height

Capacity,




lbs.

Material
Color
Mount
Type
Mounting
Fasteners
Included
Features
Each
2

1/4

"
19

1/4

"
19

1/4

"
9"
50
Polypropylene Plastic

Orange
Bolt On
Yes
Exterior Metal Bar, Magnetic Strips, Two Removable Dividers
0000000
0000000
Watertight Storage Boxes with Removable Tote Tray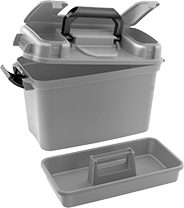 A
A rubber seal in the lid keeps water out.
Wd.

Dp.

Ht.

Weight,




lbs.

Material
Lock Type
For

Max.


Shackle

Dia.

Features
Each
A
15"
8"
10

1/2

"
3
Plastic
Padlockable

3/16

"
Top Storage Compartment
0000000
000000
Flexible Trays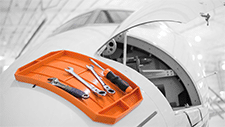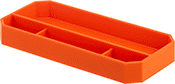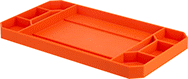 Made of silicone, these trays bend to hug curves and cling to highly polished surfaces—keeping your tools right where you need them. Originally created to keep tools from sliding off F16 fighter jets, these trays use friction to grip surfaces, so they won't fall or slide, even on inclines up to 70°. They're soft and won't dent or scratch your surface like traditional trays can. Drape them over hot pipes or an engine block and they won't melt—they withstand temperatures up to 500° F.
In addition to holding parts and tools, use these trays at your workstation to clean dirty, oily parts such as roller chain. They won't degrade when exposed to oil and chemicals, yet are easy to clean. Wash them with soap and water.
Their vibrant orange color makes them stand out, so you can spot them across the shop; and the contrast with your tools makes it easy to find the right one.
Number
of Trays

No.

of Compartments


(Lg. × Wd. × Ht.)

Material

Max.




Temp.,

°F

Color
Each
3
4 (9

3/4

" × 4

3/4

" × 1

1/4

")
4 (10

1/4

" × 7

3/4

" × 1

1/4

")
7 (16

3/4

" × 9

1/4

" × 1

1/4

")
Silicone Rubber
500°
Orange
0000000
0000000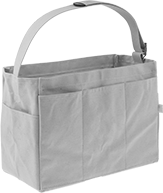 D
Style

Wd.

Dp.

Ht.

Weight


Capacity,

lbs.

Number of
Compartments
Material
Color
Handle Material
Each
D
16"
7

1/2

"
12"
Not Rated
6
Canvas Fabric
Orange
Canvas Fabric
0000000
000000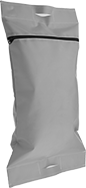 C
These water-resistant bags protect contents in wet environments.
Style

Wd.

Ht.

Number of
Compartments
Closure
Style
Material
Color
Each
C
16

1/2

"
26

3/4

"
1
Zipper
Vinyl Plastic
Orange
000000
000000
Mesh Storage Bags with Drawstring Closure
The mesh design allows air to circulate.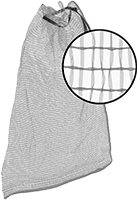 Polypropylene Standard
Organizers for Traffic Cones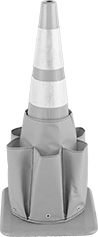 Add pockets to a traffic cone for easy access to flashlights, hand tools, and small parts. Slide them over cones that are at least 18" high. Their fluorescent orange color maintains the visibility of the cone. Made from vinyl, they can be used outdoors. Drainage eyelets help keep the pockets dry.
Base


Wd.

Ht.

Number of
Compartments
Material
Color
Each
17"
16"
6
Vinyl Plastic
Orange
0000000
000000
Tool Trays for Step Ladders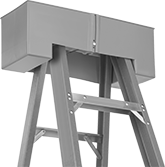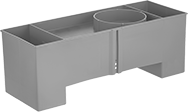 Avoid trips up and down step ladders to get tools and supplies—mount these trays to top steps that are 13 1/2" to 14" wide and 6" to 6 1/2" deep to keep items securely within reach. These trays have one shallow and two deep compartments to hold a variety of items as well as one compartment that's sized for a 1-gallon paint can. They're made of molded polypropylene, so they won't leak if something spills. They also don't need to be removed when it's time to store your step ladder.
Width
Depth
Width
Depth
Height

Capacity,




lbs.

Number
of
Compartments
Material
Color
Mounting
Hardware
Included
Each
13

1/2

"-14"
6"-6

1/2

"
23

1/2

"
8

3/4

"
8

1/2

"
50
4
Polypropylene Plastic

Orange
Yes
0000000
000000