Tabletop
Spill-Control

Dikes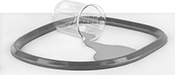 Form a barrier to stop small spills from spreading on tabletops and workstations with these flexible rubber dikes. Made of polyurethane, they resist oil, water, and most other chemicals. These dikes are easy to clean and reusable.
Lg.,




ft.

Wd.

Ht.

Material
Color
Includes
Each
4
1"

3/4

"
Polyurethane Rubber
Orange
Carrying Case
0000000
000000
Float Valves for Chemicals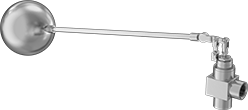 Elbow Valve Body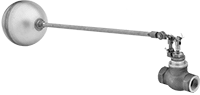 Straight Valve Body
Made of stainless steel, these float valves have excellent corrosion resistance even when exposed to chemicals.
Valves for open tanks are for use only in an open tank.
Valves for closed tanks are designed to withstand the pressure in a closed tank.
For technical drawings and 3-D models, click on a part number.
Pipe
Size

Thread
Type
Gender
Pipe
Size

Thread
Type
Gender
Flow
Rate

Max.




Pressure,


psi
Float


Dia.

Lg.

Pipe
Size
Thread
Type
Float
Material
Seal
Material

Temp.




Range,




°F

Each

Open Tank

For Use With

Acetone,

Alcohol,

Chemicals,

Hydraulic Fluid

316 Stainless Steel Elbow Valve Body

1/2

NPT

Female

1/2

NPT

Female
30 gpm @ 50 psi
100
5"
16"

1/4

NPT

304 Stainless Steel
PTFE Plastic
35° to 350°
0000000
0000000

3/4

NPT

Female

3/4

NPT

Female
50 gpm @ 50 psi
100
5"
16"

1/4

NPT

304 Stainless Steel
PTFE Plastic
35° to 350°
0000000
000000
1

NPT

Female
1

NPT

Female
75 gpm @ 50 psi
100
6"
18"

1/4

NPT

304 Stainless Steel
PTFE Plastic
35° to 350°
0000000
000000
1

1/2

NPT

Female
1

1/2

NPT

Female
125 gpm @ 50 psi
100
6"
18"

1/4

NPT

304 Stainless Steel
PTFE Plastic
35° to 350°
0000000
00000000

316 Stainless Steel Straight Valve Body

1/2

NPT

Female

1/2

NPT

Female
30 gpm @ 50 psi
100
5"
16"

1/4

NPT

304 Stainless Steel
PTFE Plastic
35° to 350°
0000000
000000

3/4

NPT

Female

3/4

NPT

Female
50 gpm @ 50 psi
100
5"
16"

1/4

NPT

304 Stainless Steel
PTFE Plastic
35° to 350°
0000000
000000
1

NPT

Female
1

NPT

Female
75 gpm @ 50 psi
100
6"
18"

1/4

NPT

304 Stainless Steel
PTFE Plastic
35° to 350°
0000000
000000
1

1/2

NPT

Female
1

1/2

NPT

Female
125 gpm @ 50 psi
100
6"
18"

1/4

NPT

304 Stainless Steel
PTFE Plastic
35° to 350°
0000000
00000000

Closed Tank

For Use With

Acetone,

Alcohol,

Chemicals,

Hydraulic Fluid

316 Stainless Steel Elbow Valve Body

1/2

NPT

Female

1/2

NPT

Female
30 gpm @ 50 psi
100
5"
16"

1/8

NPT

304 Stainless Steel
PTFE Plastic
35° to 350°
00000000
000000

3/4

NPT

Female

3/4

NPT

Female
50 gpm @ 50 psi
100
5"
16"

1/8

NPT

304 Stainless Steel
PTFE Plastic
35° to 350°
00000000
000000
1

NPT

Female
1

NPT

Female
75 gpm @ 50 psi
100
6"
18"

1/4

NPT

304 Stainless Steel
PTFE Plastic
35° to 350°
00000000
000000
1

1/2

NPT

Female
1

1/2

NPT

Female
125 gpm @ 50 psi
100
6"
18"

1/4

NPT

304 Stainless Steel
PTFE Plastic
35° to 350°
00000000
00000000

316 Stainless Steel Straight Valve Body

1/2

NPT

Female

1/2

NPT

Female
30 gpm @ 50 psi
100
5"
16"

1/4

NPT

304 Stainless Steel
PTFE Plastic
35° to 350°
00000000
000000

3/4

NPT

Female

3/4

NPT

Female
50 gpm @ 50 psi
100
5"
16"

1/4

NPT

304 Stainless Steel
PTFE Plastic
35° to 350°
00000000
000000
1

NPT

Female
1

NPT

Female
75 gpm @ 50 psi
100
6"
18"

1/4

NPT

304 Stainless Steel
PTFE Plastic
35° to 350°
00000000
00000000
1

1/2

NPT

Female
1

1/2

NPT

Female
125 gpm @ 50 psi
100
6"
18"

1/4

NPT

304 Stainless Steel
PTFE Plastic
35° to 350°
00000000
00000000