Soft-Bristled

Scrub Brushes with

Extended-Reach

Handle
Often used to clean windows and vehicles, these soft-bristled brushes won't scratch.
Horsehair bristles are temperature resistant. However, they are not chemical resistant.
Natural-fiber bristles are good for highly polished surfaces. They are chemical and temperature resistant.
Brushes with bumper guard have a wrap-around bumper on the bristle block to protect surfaces.
Style B have a garden hose connection so water can flow through brush for one-step scrubbing and washdown. Brushes with flow-control valve allow you to vary or shut off water flow from the brush.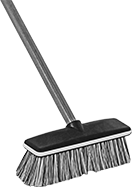 A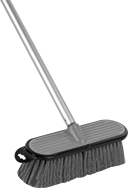 B
Style

Lg.

Wd.

Lg.

Color

Lg.

Material
Color
Material
Color
Hose
Size
Thread
Type
Gender
Features
Each
Each

PVC Plastic Bristles

A
8"
2

1/2

"
2

1/2

"
Gray
60"
Wood
__
Plastic
Tan
__
__
__
__
0000000
000000
000000
00
A
10"
2

1/2

"
2

1/2

"
Gray
60"
Wood
__
Plastic
Tan
__
__
__
Bumper Guard
0000000
00000
000000
00

Horsehair Bristles

A
12"
2

7/8

"
2

1/2

"
Gray
54"
Wood
__
Wood
__
__
__
__
Bumper Guard, One Tapered Hole, One Threaded Hole
0000000
00000
000000
00

Natural Fiber Bristles

B
10

1/2

"
4"
2

1/2

"
White
36"-60"
Aluminum
White
Plastic
White

3/4

GHT

Female
Bumper Guard, Telescoping Handle
0000000
00000
0000000
000000

Polystyrene Plastic Bristles

B
10"
3

1/4

"
2

3/4

"
Blue
42"-72"
Aluminum
__
Plastic
Blue/Black

3/4

GHT

Female
Bumper Guard, Flow-Control Valve, Telescoping Foam-Grip Handle
0000000
00000
0000000
00000
B
10"
3

1/4

"
2

3/4

"
Blue
54"-96"
Aluminum
__
Plastic
Blue/Black

3/4

GHT

Female
Bumper Guard, Flow-Control Valve, Telescoping Foam-Grip Handle
0000000
00000
0000000
00000
B
10"
3

1/4

"
2

3/4

"
Blue
78"-144"
Aluminum
__
Plastic
Blue/Black

3/4

GHT

Female
Bumper Guard, Flow-Control Valve, Telescoping Foam-Grip Handle
0000000
00000
0000000
00000