Button Pins for Telescoping Tubing

Shown Installed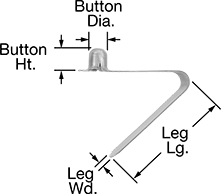 Single Button Straight Leg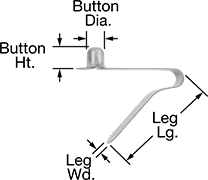 Single Button Dog Leg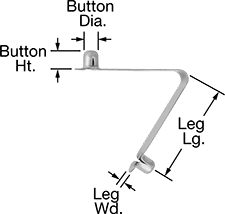 Double Button Straight Leg
(Opposite Side)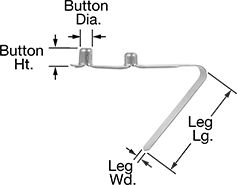 Double Button Straight Leg
(Same Side)
These pins use spring force to hold pieces of telescoping tubing together. Install them in the smaller tube, then slip the larger tube over the smaller tube until the button pops into a hole. Also known as snap buttons and tubing buttons.
Zinc-plated steel pins offer good strength and some corrosion resistance.
410 stainless steel pins resist wear as well as corrosion. They are magnetic.
301 stainless steel pins are the most corrosion resistant. They may be mildly magnetic.
For technical drawings and 3-D models, click on a part number.
For Round
Tubing ID
For Square
Tubing Inside

Wd.

Dia.

Ht.

Wd.

Lg.

Min.

Hardness

Pkg.




Qty.

Pkg.

Zinc-Plated

1050 Spring Steel

Single Button Straight Leg

3/8

"-

5/8

"

5/16

"-

5/8

"

1/8

"

3/16

"

3/16

"
1

1/4

"
Rockwell C44
10
000000000
000000

1/2

"-

7/8

"

7/16

"-

7/8

"

1/4

"

1/4

"

3/8

"
1

7/16

"
Rockwell C44
10
000000000
0000

1/2

"-1

1/4

"

7/16

"-1

1/4

"

1/4

"

3/8

"

3/8

"
1

7/8

"
Rockwell C44
10
000000000
0000

9/16

"-1

1/4

"

7/16

"-1

1/4

"

5/16

"

3/8

"

7/16

"
1

7/8

"
Rockwell C44
5
000000000
0000

5/8

"-1

1/4

"

7/16

"-1

1/4

"

5/16

"

3/8

"

7/16

"
1

15/16

"
Rockwell C44
10
000000000
0000

11/16

"-1

3/8

"

1/2

"-1

3/8

"

3/8

"

3/8

"

1/2

"
2

1/8

"
Rockwell C44
5
000000000
0000

11/16

"-1

3/8

"

1/2

"-1

3/8

"

3/8

"

3/8

"

1/2

"
2

3/16

"
Rockwell C44
1
000000000
0000

11/16

"-1

3/8

"

9/16

"-1

3/8

"

3/8

"

3/8

"

1/2

"
2

1/8

"
Rockwell C44
10
000000000
0000
1

1/4

"-1

3/4

"
1

1/8

"-1

3/4

"

3/8

"

3/8

"

1/2

"
3

1/2

"
Rockwell C44
1
000000000
0000

Single Button Dog Leg

1/2

"-

3/4

"

3/8

"-

3/4

"

1/4

"

1/4

"

3/8

"
1

3/8

"
Rockwell C44
10
000000000
0000

1/2

"-1"

7/16

"-1"

5/16

"

3/8

"

7/16

"
1

7/8

"
Rockwell C44
5
000000000
0000

9/16

"-1"

7/16

"-1"

5/16

"

3/8

"

7/16

"
1

7/8

"
Rockwell C44
10
000000000
0000

9/16

"-1"

9/16

"-1"

1/4

"

3/8

"

3/8

"
1

7/8

"
Rockwell C44
10
000000000
0000

9/16

"-1

1/8

"

1/2

"-1

1/8

"

3/8

"

7/16

"

1/2

"
2

1/16

"
Rockwell C44
1
000000000
0000

5/8

"-1

1/8

"

9/16

"-1

1/8

"

3/8

"

3/8

"

1/2

"
1

13/16

"
Rockwell C44
10
000000000
0000

Double Button Straight

Leg—

Opposite Side

5/8

"-

7/8

"

5/8

"-

7/8

"

1/4

"

1/4

",

1/4

"

3/8

"
1

1/2

"
Rockwell C44
5
000000000
0000

7/8

"-1

1/8

"

7/8

"-1

1/8

"

5/16

"

3/8

",

3/8

"

7/16

"
2

1/16

"
Rockwell C44
5
000000000
0000

7/8

"-1

7/8

"

7/8

"-1

7/8

"

3/8

"

3/8

",

3/8

"

1/2

"
3

3/16

"
Rockwell C44
1
000000000
0000
1"-1

7/8

"
1"-1

7/8

"

3/8

"

7/16

",

7/16

"

1/2

"
2

13/16

"
Rockwell C44
5
000000000
00000
1"-1

7/8

"
1"-1

7/8

"

3/8

"

7/16

",

7/16

"

1/2

"
3

1/8

"
Rockwell C44
1
000000000
0000

Double Button Straight

Leg—

Same Side

1/2

"-1"

1/2

"-1"

1/4

"
2

3/8

", 1

3/8

"

7/16

"
3"
Rockwell C44
1
000000000
0000

410 Stainless Steel

Single Button Straight Leg

3/8

"-

5/8

"

5/16

"-

5/8

"

1/8

"

3/16

"

3/16

"
1

1/4

"
Rockwell C42
5
000000000
00000

1/2

"-

7/8

"

7/16

"-

7/8

"

1/4

"

1/4

"

3/8

"
1

7/16

"
Rockwell C42
5
000000000
00000

1/2

"-1

1/4

"

7/16

"-1

1/4

"

1/4

"

3/8

"

3/8

"
1

7/8

"
Rockwell C42
5
000000000
00000

5/8

"-1

1/4

"

7/16

"-1

1/4

"

5/16

"

3/8

"

7/16

"
1

15/16

"
Rockwell C42
5
000000000
00000

11/16

"-1

3/8

"

9/16

"-1

3/8

"

3/8

"

3/8

"

1/2

"
2

1/8

"
Rockwell C42
1
000000000
0000

Single Button Dog Leg

9/16

"-1"

7/16

"-1"

5/16

"

3/8

"

7/16

"
1

7/8

"
Rockwell C42
5
000000000
00000

9/16

"-1"

9/16

"-1"

1/4

"

3/8

"

3/8

"
1

7/8

"
Rockwell C42
5
000000000
00000

5/8

"-1

1/8

"

9/16

"-1

1/8

"

3/8

"

3/8

"

1/2

"
2

1/16

"
Rockwell C42
1
000000000
0000

Double Button Straight

Leg—

Opposite Side

5/8

"-

7/8

"

5/8

"-

7/8

"

1/4

"

1/4

",

1/4

"

3/8

"
1

1/2

"
Rockwell C42
5
000000000
00000

7/8

"-1

1/8

"

7/8

"-1

1/8

"

5/16

"

3/8

",

3/8

"

7/16

"
2

1/16

"
Rockwell C42
1
000000000
0000
1"-1

7/8

"
1"-1

7/8

"

3/8

"

7/16

",

7/16

"

1/2

"
2

13/16

"
Rockwell C42
1
000000000
0000

Zinc-Plated

410 Stainless Steel

Single Button Dog Leg

1/2

"-

3/4

"

3/8

"-

3/4

"

1/4

"

1/4

"

3/8

"
1

3/8

"
Rockwell C42
5
000000000
00000

301 Stainless Steel

Single Button Straight Leg

7/16

"-

7/8

"

3/8

"-

7/8

"

1/4

"

1/4

"

1/4

"
1

7/16

"
Rockwell C41
1
000000000
0000

9/16

"-1

1/8

"

1/2

"-

7/8

"

3/8

"

3/8

"

3/8

"
2

1/8

"
Rockwell C41
1
000000000
0000