Electrically Conductive Tungsten Copper Rods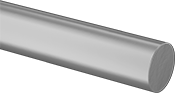 Yield

Strength:

Not Rated

Hardness:

Rockwell C20

(Hard)
Use these rods for electrodes in the electrical-discharge machining of dense material, such as tungsten carbide—they're 75% tungsten for wear and arc-erosion resistance and 25% copper for electrical and thermal conductivity. Meeting RWMA Class 11, they're suitable for facings and insets for flash and butt welding dies, projection welding electrodes, and seam welding. Compared to RWMA Class 10, they're more wear resistant because they contain more tungsten. They're also known as Elkonite rods.
For technical drawings and 3-D models, click on a part number.

Certificates with a traceable lot number are available for these products. Download certificates from ORDER HISTORY after your order ships.