Plastic Wall Panels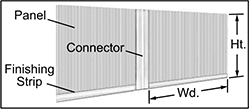 Virtually unbreakable, these panels are impact, heat, chemical, weather, and UV resistant. To cut panels to size, use a circular saw with a fine-tooth blade. Panels can also be used in roofing applications. When used as roof panels, they require a minimum 5° slope.
Connectors join two panels side by side. Finishing strips keep the top and bottom ends clear of dirt and dust.
For technical drawings and 3-D models, click on a part number.
Wd.

Ht.

Thick.

Material
Color
Temperature


Range,




° F

Flammability
Rating
Specifications
Met
Each
Each
Each
24"
12"

1/4

"
Polycarbonate Plastic

Clear
-40° to 250°
ASTM E84 10/130 for Flame and Smoke
Class A Fire Rated
00000000
00000
00000000
00000
00000000
00000
24"
24"

1/4

"
Polycarbonate Plastic

Clear
-40° to 250°
ASTM E84 10/130 for Flame and Smoke
Class A Fire Rated
00000000
00000
00000000
0000
00000000
0000
36"
24"

1/4

"
Polycarbonate Plastic

Clear
-40° to 250°
ASTM E84 10/130 for Flame and Smoke
Class A Fire Rated
00000000
00000
00000000
0000
00000000
0000
48"
36"

1/4

"
Polycarbonate Plastic

Clear
-40° to 250°
ASTM E84 10/130 for Flame and Smoke
Class A Fire Rated
00000000
00000
00000000
0000
00000000
0000
48"
48"

1/4

"
Polycarbonate Plastic

Clear
-40° to 250°
ASTM E84 10/130 for Flame and Smoke
Class A Fire Rated
00000000
00000
00000000
00000
00000000
0000