About Sling Configurations and Capacity
Wire Rope Slings with Hooks
For use with loads that have lift attachments, these slings attach quickly and securely. They are more abrasion and cut resistant than web and round slings, yet lighter in weight than mesh and chain slings. They include a tag that shows capacities in each configuration.
Note: Do not use multi-leg slings at an angle less than 30°.
Warning: Never use to lift people or items over people.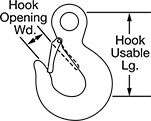 Dia.

at 30°

at 45°

at 60°

Construction
Core
Type
Material
Opening


Wd.

Usable


Lg.

Wd.

Lg.

Wd.

Thick.

Max.




Temp.,




°F

Specifications
Met
Other


Lengths,




ft.

2 ft.




Lg.

3 ft.




Lg.

6 ft.




Lg.

8 ft.




Lg.

10


ft.




Lg.

1/4

"
1,300
1,800
2,200
6 × 19
IWRC
Steel

3/4

"
1

1/4

"

5/8

"
4

1/2

"
3"

3/4

"
400°
OSHA Compliant 29 CFR 1910.184, ASME B30.9
2 to 20
0000000

3/8

"
2,800
4,000
5,000
6 × 19
IWRC
Steel

3/4

"
2"

3/4

"
4

1/2

"
3"

3/4

"
400°
OSHA Compliant 29 CFR 1910.184, ASME B30.9
2 to 20
0000000