Solvent-

and

Abrasion-Resistant

Stamp Ink

Packet with Catalyst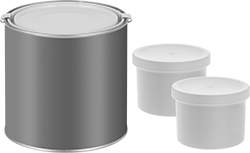 Mix the included catalyst into this ink to add resistance to solvents and abrasion. Use on nonporous surfaces such as plastic, glass, and metal. Combine the ink and catalyst on glass or metal (not for use with stamp pads).
Thinner allows you to achieve your desired ink consistency.
Ink cleaner removes fresh and partially dried ink from stamps and printing machinery.
Size
Type
Drying
Time
Specifications
Met
Choose
a
Color
Each

1/2

fl. oz.
Packet
8 hrs.
CID-A-A-56032D, Type 1, 2, and 3; MIL-I-43553
Black
00000000
000000

1/2

fl. oz.
Packet
8 hrs.
CID-A-A-56032D, Type 1, 2, and 3; MIL-I-43553
White
00000000
00000
1 gal.
Can
8 hrs.
CID-A-A-56032D, Type 1, 2, and 3; MIL-I-43553
Black
000000000
00000000
16 fl. oz.
Jar
8 hrs.
CID-A-A-56032D, Type 1, 2, and 3; MIL-I-43553
00000000
000000
32 fl. oz.
Jar
8 hrs.
CID-A-A-56032D, Type 1, 2, and 3; MIL-I-43553
00000000
000000