About Hazardous Location Environmental Ratings
Hazardous Location Intercoms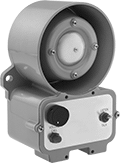 These intercoms are rated for environments where hazardous material is present. They have screw terminals for hardwiring. Intercoms are NEMA 4X and IP65 rated for protection from corrosion and washdowns.
Hazardous location environmental ratings indicate whether manufacturers have included safety features in products to facilitate their safe use in a hazardous environment. Before selecting a product for a hazardous location, ensure it is rated for your environment. See About Hazardous Location Environmental Ratings.
Features

Mount.


Location

Power,


W
Voltage

Current, A

For Use
With Audio
Cable Type

Ht.

Wd.

Dp.

Environmental
Rating
Specifications
Met
Functions
Each

For

Corrosive,

Hazardous

Location,

Outdoor,

Washdown Environments

Amplifier, Speaker, Talk/Listen Toggle Switch, Call Button
Wall
25
120V AC
240V AC
24V DC
0.04
0.06
0.07
Two Wire
9

7/8

"
6

1/2

"
5"
NEC Class I Division 2 Groups A, B, C, D
NEC Class II Division 2 Groups F, G
NEC Class III Divisions 1, 2
IP65
NEMA 4X
UL Listed, C-UL Listed, CSA Certified
Initiate Calls, Receive Calls
0000000
000000000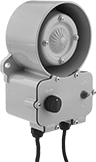 Bolstered by their sealed, heavy cast aluminum housing, these corrosion-resistant intercoms can handle extreme heat and cold.
Features
Mounting
Location

Power,


W
Voltage

Current,


A

Ht.

Wd.

Dp.

Environmental
Rating
Specifications
Met
Volume
Control
Functions
Fasteners
Included

No.


of

Dia.

Each
Amplifier, Speaker, Talk/Listen Toggle Switch
Wall
25
120V AC
0.2
9

7/8

"
6

3/4

"
3

7/8

"
IP65, NEMA 4X
CE Marked, UL Listed, C-UL Listed, UL Marine Listed
Adjustable
Initiate Calls, Receive Calls
No
2

7/16

"
0000000
0000000
Amplifier, Speaker, Talk/Listen Toggle Switch, Call Button
Wall
25
120V AC
0.2
9

7/8

"
6

3/4

"
3

7/8

"
IP65, NEMA 4X
CE Marked, UL Listed, C-UL Listed, UL Marine Listed
Adjustable
Initiate Calls, Receive Calls
No
2

7/16

"
0000000
000000