Air-Powered

Straight Grinders for Wheels and Cones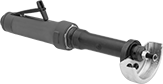 A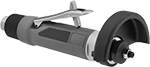 B
Use these grinders with straight (Type 1) grinding wheels. They are smaller and lighter than our Electric Straight Grinders.
Grinders have a lever lock to prevent accidental start-up. Style B has a regulator that maintains constant speed when grinding.
Caution: Use only accessories that have a greater rpm rating than the maximum speed of the grinder you choose.
For
Wheel


Dia.

Max.




Speed,


rpm

Power,


hp
For Arbor
Hole
Size
Airflow
Exhaust
Location
Thread
Type
Pipe
Size

For
Hose
ID
Type
Switch
Type

O'all




Lg.

Wt.,




lbs.

Each
A
3"
18,000
1

3/8

"-24
14 cfm @ 90 psi
Rear
NPT

3/8

3/8

"
Variable
Lever
13

3/8

"
3

1/4

00000000
0000000
B
3"
12,000
1

3/8

"-24
38 cfm @ 90 psi
Rear
NPT

3/8

3/8

"
Variable
Lever
14

1/4

"
4
00000000
000000
B
4"
12,000
1

3/8

"-24
38 cfm @ 90 psi
Rear
NPT

3/8

3/8

"
Variable
Lever
8

5/8

"
2

3/4

00000000
000000