Shaped Norton Toolroom Grinding Wheels for Metals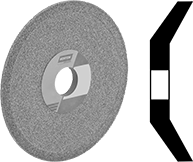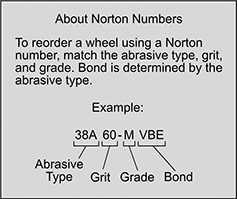 The special shapes of these wheels provide more clearance than typical straight wheels.
32A purple wheels are for medium to heavy material removal. They are aluminum oxide.
Caution: Use only accessories that have a greater rpm rating than the maximum speed of the grinder you choose.
For technical drawings and 3-D models, click on a part number.
Dia.

Thick.

Arbor
Hole
Size

Max.




Speed,


rpm
Abrasive
Material
Abrasive
Bond
Material
Type
Shape
Grit


(Surface Texture)

Norton
Abrasive
Grade
Each
6"

1/2

"
1

1/4

"
4,140
Aluminum Oxide
Vitrified Clay
Type 12
Curved (Dish)
60 (Rough)
K
00000000
000000
7"

1/2

"
1

1/4

"
3,600
Aluminum Oxide
Vitrified Clay
Type 12
Curved (Dish)
46 (Rough)
K
00000000
00000
7"

1/2

"
1

1/4

"
3,600
Aluminum Oxide
Vitrified Clay
Type 12
Curved (Dish)
60 (Rough)
K
00000000
00000