Porous Stainless Steel Discs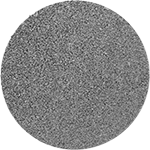 Also known as sintered filters and frits, these discs have tiny holes that trap very small particles. Discs are often used in laboratories and gas-bubbling applications (sparging). They're made of 316L stainless steel for excellent corrosion and abrasion resistance.
Select discs based on the size of the particles you wish to remove. For example, the particle size of talcum is about 10 microns. View more information on particle size in microns.
For technical drawings and 3-D models, click on a part number.
Porous PTFE
Adhesive-Back

Discs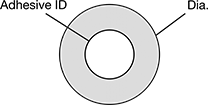 Color:

White
Maximum

Temperature:

250° F
Stick these discs onto breather and other circular vents to guard against water and dirt without obstructing flow. Often used in the electronic and automotive industries, they have very small holes so air, gas, and vapor can still pass through. These discs are made of PTFE to wick water away. They also won't break down from most chemicals, except alkali metal and high-temperature fluorinated agents.
IP rated except for their adhesive, all seal out dust and stand up to some submersion. IP65-rated discs also handle low-pressure washdowns, while IP66-rated discs withstand high-pressure washdowns.
Thickness
Overall
Thickness
Removes Particle
Size Down


To,

microns
Airflow @
Surface
Area
ID
Location
Type
Thickness
Environmental
Rating

Pkg.




Qty.

Pkg.

Small Pack

0.007"
0.015"
0.4
3.8 cfm @ 1 sq. in.

9/32

"
Edge
Acrylic
0.008"
IP67

50
0000000
000000
0.01"
0.018"
0.1
0.2 cfm @ 1 sq. in.

9/32

"
Edge
Acrylic
0.008"
IP66, IP68
50
0000000
00000
0.01"
0.018"
0.1
1.8 cfm @ 1 sq. in.

9/32

"
Edge
Acrylic
0.008"
IP65, IP68
50
0000000
00000

Large Pack

0.007"
0.015"
0.4
3.8 cfm @ 1 sq. in.

9/32

"
Edge
Acrylic
0.008"
IP67

100
0000000
00000
0.01"
0.018"
0.1
0.2 cfm @ 1 sq. in.

9/32

"
Edge
Acrylic
0.008"
IP66, IP68
100
0000000
000000
0.01"
0.018"
0.1
1.8 cfm @ 1 sq. in.

9/32

"
Edge
Acrylic
0.008"
IP65, IP68
100
0000000
00000