Electric
Ultra-High-Vacuum

Pumps
Achieve vacuum levels up to 1 x 10 -12 torr with these ultra-high-vacuum pumps. Each unit includes two pumps—a diaphragm pump and a turbomolecular pump—that work together to create extremely high levels of vacuum in your chamber. The turbomolecular pump meets IP54 for protection in damp and dusty environments. Units are compact, so they fit on top of a workbench or table.
Pumps are ready to use as soon as they're plugged in and connected to a chamber. Since they don't use oil, they won't introduce contaminants into your system. They hardly vibrate, minimizing interference with sensitive instruments and measurement devices.
Pumps with claw-clamp intake connections require a ring and four double-claw clamps (all sold separately) to connect to other components. Claw-clamp connections are also known as ISO-K fittings. These pumps include a gauge with quick-clamp connections, which requires a quick clamp and a ring (both sold separately) to connect. Quick-clamp connections are also known as KF fittings.
Pumps with flanged intake connections and the included gauge each require a gasket (sold separately) to connect to your chamber. Flanged connections are also known as CF fittings.
High-Vacuum

Flanged Sights
Add a window to your high-vacuum system. With a pane of glass sealed inside a high-vacuum CF flange, these sights bolt onto vacuum chambers, tee fittings, and manifolds. Use a copper gasket (sold separately) to create a seal. Not for use with pressure. To illuminate dark interiors, attach an optional light to the flange with set screws.
For technical drawings and 3-D models, click on a part number.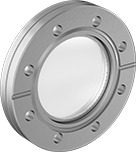 Sight
High-Vacuum


Flange
Size
Flange
OD
For
Tube
OD
High Vacuum
Connection
Type

Max.


Vacuum

Dia.

Material
Bolt
Circle


Dia.

No.


of

Dia.

Max.




Temp.,




°F

Each

304 Stainless Steel

16
1

21/64

"
__
CF
1 × 10 -11 torr @ 72° F

5/8

"
Glass
1

1/16

"
6

11/64

"
660°
0000000
0000000
40
2

3/4

"
__
CF
1 × 10 -11 torr @ 72° F
1

1/2

"
Glass
2

5/16

"
6

17/64

"
660°
0000000
000000
63
4

1/2

"
__
CF
1 × 10 -11 torr @ 72° F
2

9/16

"
Glass
3

5/8

"
8

21/64

"
660°
0000000
000000
63
4

1/2

"
2

1/2

"
CF
1 × 10 -11 torr @ 72° F
2

5/8

"
Glass
3

5/8

"
8

21/64

"
750°
0000000
000000
100
6"
__
CF
1 × 10 -11 torr @ 72° F
3

35/64

"
Glass
5

1/8

"
16

21/64

"
660°
0000000
000000