Stanley
Retracting-Blade

Utility Knives

E
Style

Mfr.


Model
Number
Handle
Color

Lg.

Wd.

Thick.

Edge
Blade
Position

No.

of
Blades
Included
Closed


Lg.

Handle
Material
Each

Pkg.




Qty.

Pkg.

For Use On

Cardboard,

Cork,

Fabric,

Leather,

Paper,

Plastic,

Rubber

Straight Handle

E
10-179
Green
2

1/2

"

3/4

"
0.024"
Straight
Blade Fully Extended, Blade Halfway Extended, Blade Tip Extended
3
6"
Metal
00000000
00000
6
00000000
000000

1

6

12

13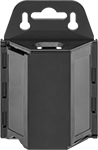 Dispenser Pack
For

Mfr.

Model

No.

Lg.

Wd.

Thick.

Material
Edge

Mfr.

Model
Number
Includes

Pkg.




Qty.

Pkg.

1
10-079, 10-099, 10-179, 10-189, 10-193, 10-209, 10-299, 10-399, 10-432, 10-499, 10-778, 10-779, 10-788, 10-813, 10-989
2

1/2

"

3/4

"
0.024"
Steel
Straight
11-921
__
5
0000000
00000
1
10-079, 10-099, 10-179, 10-189, 10-193, 10-209, 10-299, 10-399, 10-432, 10-499, 10-778, 10-779, 10-788, 10-813, 10-989
2

1/2

"

3/4

"
0.024"
Steel
Straight
11-921
__
400
0000000
00000
1
10-079, 10-099, 10-179, 10-189, 10-193, 10-209, 10-299, 10-399, 10-432, 10-499, 10-778, 10-779, 10-788, 10-813, 10-989
2

1/2

"

3/4

"
0.024"
Steel
Straight
11-921
Dispenser
10
0000000
0000
1
10-079, 10-099, 10-179, 10-189, 10-193, 10-209, 10-299, 10-399, 10-432, 10-499, 10-778, 10-779, 10-788, 10-813, 10-989
2

1/2

"

3/4

"
0.024"
Steel
Straight
11-921
Dispenser
100
0000000
00000
1
10-079, 10-099, 10-179, 10-189, 10-193, 10-209, 10-299, 10-399, 10-499, 10-778, 10-779, 10-788, 10-813, 10-989
2"

3/4

"
0.017"
Steel
Straight
11-911
Dispenser
100
0000000
00000
1
10-079, 10-099, 10-179, 10-189, 10-193, 10-209, 10-299, 10-399, 10-499, 10-778, 10-779, 10-788, 10-813, 10-989
2

1/2

"

3/4

"
0.024"
Steel
Straight
11-700
__
5
0000000
0000
1
10-079, 10-099, 10-179, 10-189, 10-193, 10-209, 10-299, 10-399, 10-499, 10-778, 10-779, 10-788, 10-813, 10-989
2

1/2

"

3/4

"
0.024"
Steel
Straight
11-700A
Dispenser
100
0000000
00000
1
10-079, 10-099, 10-179, 10-189, 10-193, 10-209, 10-299, 10-399, 10-499, 10-779, 10-788, 10-813, 10-989
2"

3/4

"
0.017"
Steel
Straight
11-911
__
5
0000000
0000
1
10-079, 10-099, 10-179, 10-189, 10-193, 10-209, 10-299, 10-399, 10-499, 10-779, 10-788, 10-989
2

1/2

"

3/4

"
0.035"
Steel
Straight
11-931
__
5
0000000
0000
1
10-079, 10-099, 10-179, 10-189, 10-193, 10-209, 10-299, 10-399, 10-499, 10-779, 10-788, 10-989
2

1/2

"

3/4

"
0.035"
Steel
Straight
11-931
__
100
0000000
00000
6
10-079, 10-099, 10-179, 10-189, 10-193, 10-209, 10-299, 10-399, 10-499, 10-778, 10-779, 10-788, 10-813, 10-989
2

1/8

"

3/4

"
0.024"
Steel
Straight
11-987
__
5
0000000
0000
6
10-079, 10-099, 10-179, 10-189, 10-193, 10-209, 10-299, 10-399, 10-499, 10-778, 10-779, 10-788, 10-813, 10-989
2

1/4

"

3/4

"
0.024"
Steel
Straight
11-988
Dispenser
100
0000000
00000
12
10-079, 10-099, 10-179, 10-189, 10-209, 10-299, 10-399, 10-499, 10-778, 10-779, 10-788, 10-813, 10-989
1

7/8

"

3/4

"
0.024"
Steel
Straight
11-983
__
5
0000000
0000
12
10-079, 10-099, 10-179, 10-189, 10-209, 10-299, 10-399, 10-499, 10-778, 10-779, 10-788, 10-813, 10-989
1

7/8

"

3/4

"
0.024"
Steel
Straight
11-983
Dispenser
100
0000000
00000
13
10-079, 10-099, 10-179, 10-189, 10-193, 10-209, 10-299, 10-399, 10-499, 10-778, 10-779, 10-788, 10-813, 10-989
2

1/8

"

3/4

"
0.024"
Steel
Straight
11-961
Dispenser
100
0000000
00000
13
10-079, 10-099, 10-179, 10-189, 10-209, 10-299, 10-399, 10-499, 10-778, 10-779, 10-788, 10-813, 10-989
2

1/8

"

3/4

"
0.024"
Steel
Straight
11-961
__
5
0000000
0000
Utility Knife Blades

1

6

12

13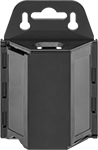 Dispenser Pack
Make quick, shallow cuts with these short blades. Check the style of the blade used in your knife and match it with the images shown here.
Dispenser distributes one blade at a time and it can be mounted on a wall.
For technical drawings and 3-D models, click on a part number.
Stanley Utility Knife Blades

1

6

12

13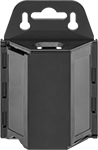 Dispenser Pack
For

Mfr.


Model


No.

Lg.

Wd.

Thick.

Material
Edge

Mfr.


Model
Number
Includes

Pkg.




Qty.

Pkg.

For Use On

Cardboard,

Cork,

Fabric,

Leather,

Paper,

Plastic,

Rubber

1
10-079, 10-099, 10-179, 10-189, 10-193, 10-209, 10-299, 10-399, 10-432, 10-499, 10-778, 10-779, 10-788, 10-813, 10-989
2

1/2

"

3/4

"
0.024"
Steel
Straight
11-921
__
5
0000000
00000
1
10-079, 10-099, 10-179, 10-189, 10-193, 10-209, 10-299, 10-399, 10-432, 10-499, 10-778, 10-779, 10-788, 10-813, 10-989
2

1/2

"

3/4

"
0.024"
Steel
Straight
11-921
__
400
0000000
00000
1
10-079, 10-099, 10-179, 10-189, 10-193, 10-209, 10-299, 10-399, 10-432, 10-499, 10-778, 10-779, 10-788, 10-813, 10-989
2

1/2

"

3/4

"
0.024"
Steel
Straight
11-921
Dispenser
10
0000000
0000
1
10-079, 10-099, 10-179, 10-189, 10-193, 10-209, 10-299, 10-399, 10-432, 10-499, 10-778, 10-779, 10-788, 10-813, 10-989
2

1/2

"

3/4

"
0.024"
Steel
Straight
11-921
Dispenser
100
0000000
00000
1
10-079, 10-099, 10-179, 10-189, 10-193, 10-209, 10-299, 10-399, 10-499, 10-778, 10-779, 10-788, 10-813, 10-989
2"

3/4

"
0.017"
Steel
Straight
11-911
Dispenser
100
0000000
00000
1
10-079, 10-099, 10-179, 10-189, 10-193, 10-209, 10-299, 10-399, 10-499, 10-778, 10-779, 10-788, 10-813, 10-989
2

1/2

"

3/4

"
0.024"
Steel
Straight
11-700
__
5
0000000
0000
1
10-079, 10-099, 10-179, 10-189, 10-193, 10-209, 10-299, 10-399, 10-499, 10-778, 10-779, 10-788, 10-813, 10-989
2

1/2

"

3/4

"
0.024"
Steel
Straight
11-700A
Dispenser
100
0000000
00000
1
10-079, 10-099, 10-179, 10-189, 10-193, 10-209, 10-299, 10-399, 10-499, 10-779, 10-788, 10-813, 10-989
2"

3/4

"
0.017"
Steel
Straight
11-911
__
5
0000000
0000
1
10-079, 10-099, 10-179, 10-189, 10-193, 10-209, 10-299, 10-399, 10-499, 10-779, 10-788, 10-989
2

1/2

"

3/4

"
0.035"
Steel
Straight
11-931
__
5
0000000
0000
1
10-079, 10-099, 10-179, 10-189, 10-193, 10-209, 10-299, 10-399, 10-499, 10-779, 10-788, 10-989
2

1/2

"

3/4

"
0.035"
Steel
Straight
11-931
__
100
0000000
00000
6
10-079, 10-099, 10-179, 10-189, 10-193, 10-209, 10-299, 10-399, 10-499, 10-778, 10-779, 10-788, 10-813, 10-989
2

1/8

"

3/4

"
0.024"
Steel
Straight
11-987
__
5
0000000
0000
6
10-079, 10-099, 10-179, 10-189, 10-193, 10-209, 10-299, 10-399, 10-499, 10-778, 10-779, 10-788, 10-813, 10-989
2

1/4

"

3/4

"
0.024"
Steel
Straight
11-988
Dispenser
100
0000000
00000
12
10-079, 10-099, 10-179, 10-189, 10-209, 10-299, 10-399, 10-499, 10-778, 10-779, 10-788, 10-813, 10-989
1

7/8

"

3/4

"
0.024"
Steel
Straight
11-983
__
5
0000000
0000
12
10-079, 10-099, 10-179, 10-189, 10-209, 10-299, 10-399, 10-499, 10-778, 10-779, 10-788, 10-813, 10-989
1

7/8

"

3/4

"
0.024"
Steel
Straight
11-983
Dispenser
100
0000000
00000
13
10-079, 10-099, 10-179, 10-189, 10-193, 10-209, 10-299, 10-399, 10-499, 10-778, 10-779, 10-788, 10-813, 10-989
2

1/8

"

3/4

"
0.024"
Steel
Straight
11-961
Dispenser
100
0000000
00000
13
10-079, 10-099, 10-179, 10-189, 10-209, 10-299, 10-399, 10-499, 10-778, 10-779, 10-788, 10-813, 10-989
2

1/8

"

3/4

"
0.024"
Steel
Straight
11-961
__
5
0000000
0000