PTFE Stackable
V-Ring

Packing Seals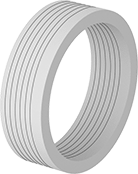 Male and Female Adapters Stacked with Five
V-Rings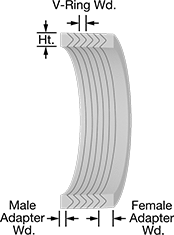 Profile
Made of PTFE, these V-ring packing seals have excellent chemical resistance and withstand a wide temperature range of -110° F to 500° F. Stack as many V-rings as you need to fill grooves in valves, pumps, and cylinders.
Begin with a male and female adapter, then add V-rings between them to fill the space. Each V-ring adds to the sealing force; the female adapter also has a sealing edge. For a complete seal, you need male and female adapters (sold together) and at least one V-ring (sold in packs of 5).
Note: Maximum performance values cannot be achieved simultaneously; for example, speed is affected by pressure, temperature, and other operating conditions.
V-Ring
ID
OD

Ht.

Temp.




Range,




°F

pH
Resistance
Hardness
Color
Specifications
Met

V-Ring




Wd.

Pkg.




of 5

PTFE Plastic

1/4

"

5/8

"
0.188"
-110° to 500°
1-9
Rockwell R60 (Extra Hard)
White
FDA Compliant 21 CFR 177.1550

0.083"
0000000
00000

5/16

"

11/16

"
0.188"
-110° to 500°
1-9
Rockwell R60 (Extra Hard)
White
FDA Compliant 21 CFR 177.1550

0.083"
0000000
0000

3/8

"

3/4

"
0.188"
-110° to 500°
1-9
Rockwell R60 (Extra Hard)
White
FDA Compliant 21 CFR 177.1550

0.083"
0000000
0000

3/8

"

7/8

"
0.250"
-110° to 500°
1-9
Rockwell R60 (Extra Hard)
White
FDA Compliant 21 CFR 177.1550

0.083"
0000000
00000

1/2

"

7/8

"
0.188"
-110° to 500°
1-9
Rockwell R60 (Extra Hard)
White
FDA Compliant 21 CFR 177.1550

0.083"
0000000
0000

1/2

"
1"
0.250"
-110° to 500°
1-9
Rockwell R60 (Extra Hard)
White
FDA Compliant 21 CFR 177.1550

0.083"
0000000
00000

9/16

"
1

1/16

"
0.250"
-110° to 500°
1-9
Rockwell R60 (Extra Hard)
White
FDA Compliant 21 CFR 177.1550

0.083"
0000000
00000

5/8

"
1

1/8

"
0.250"
-110° to 500°
1-9
Rockwell R60 (Extra Hard)
White
FDA Compliant 21 CFR 177.1550

0.083"
0000000
00000

3/4

"
1

1/4

"
0.250"
-110° to 500°
1-9
Rockwell R60 (Extra Hard)
White
FDA Compliant 21 CFR 177.1550

0.083"
0000000
00000

7/8

"
1

3/8

"
0.250"
-110° to 500°
1-9
Rockwell R60 (Extra Hard)
White
FDA Compliant 21 CFR 177.1550

0.083"
0000000
00000
1"
1

1/2

"
0.250"
-110° to 500°
1-9
Rockwell R60 (Extra Hard)
White
FDA Compliant 21 CFR 177.1550

0.083"
0000000
00000
1

1/8

"
1

5/8

"
0.250"
-110° to 500°
1-9
Rockwell R60 (Extra Hard)
White
FDA Compliant 21 CFR 177.1550

0.083"
0000000
00000
1

1/4

"
1

3/4

"
0.250"
-110° to 500°
1-9
Rockwell R60 (Extra Hard)
White
FDA Compliant 21 CFR 177.1550

0.083"
0000000
00000
1

3/8

"
2"
0.313"
-110° to 500°
1-9
Rockwell R60 (Extra Hard)
White
FDA Compliant 21 CFR 177.1550

0.140"
0000000
00000
1

1/2

"
2

1/8

"
0.313"
-110° to 500°
1-9
Rockwell R60 (Extra Hard)
White
FDA Compliant 21 CFR 177.1550

0.140"
0000000
00000
1

3/4

"
2

3/8

"
0.313"
-110° to 500°
1-9
Rockwell R60 (Extra Hard)
White
FDA Compliant 21 CFR 177.1550

0.140"
0000000
00000
One Male and One Female Adapter
ID
OD

Ht.

Temp.




Range,




°F

pH
Resistance
Hardness
Color
Specifications
Met
Male
Adapter


Wd.

Female
Adapter


Wd.

Pair

PTFE Plastic

1/4

"

5/8

"
0.188"
-110° to 500°
1-9
Rockwell R60 (Extra Hard)
White
FDA Compliant 21 CFR 177.1550

0.083"
0.190"
0000000
00000

5/16

"

11/16

"
0.188"
-110° to 500°
1-9
Rockwell R60 (Extra Hard)
White
FDA Compliant 21 CFR 177.1550

0.083"
0.190"
0000000
0000

3/8

"

3/4

"
0.188"
-110° to 500°
1-9
Rockwell R60 (Extra Hard)
White
FDA Compliant 21 CFR 177.1550

0.083"
0.190"
0000000
0000

3/8

"

7/8

"
0.250"
-110° to 500°
1-9
Rockwell R60 (Extra Hard)
White
FDA Compliant 21 CFR 177.1550

0.083"
0.250"
0000000
0000

1/2

"

7/8

"
0.188"
-110° to 500°
1-9
Rockwell R60 (Extra Hard)
White
FDA Compliant 21 CFR 177.1550

0.083"
0.250"
0000000
0000

1/2

"
1"
0.250"
-110° to 500°
1-9
Rockwell R60 (Extra Hard)
White
FDA Compliant 21 CFR 177.1550

0.083"
0.250"
0000000
0000

9/16

"
1

1/16

"
0.250"
-110° to 500°
1-9
Rockwell R60 (Extra Hard)
White
FDA Compliant 21 CFR 177.1550

0.083"
0.250"
0000000
0000

5/8

"
1

1/8

"
0.250"
-110° to 500°
1-9
Rockwell R60 (Extra Hard)
White
FDA Compliant 21 CFR 177.1550

0.083"
0.250"
0000000
0000

3/4

"
1

1/4

"
0.250"
-110° to 500°
1-9
Rockwell R60 (Extra Hard)
White
FDA Compliant 21 CFR 177.1550

0.083"
0.250"
0000000
0000

7/8

"
1

3/8

"
0.250"
-110° to 500°
1-9
Rockwell R60 (Extra Hard)
White
FDA Compliant 21 CFR 177.1550

0.083"
0.250"
0000000
0000
1"
1

1/2

"
0.250"
-110° to 500°
1-9
Rockwell R60 (Extra Hard)
White
FDA Compliant 21 CFR 177.1550

0.083"
0.250"
0000000
0000
1

1/8

"
1

5/8

"
0.250"
-110° to 500°
1-9
Rockwell R60 (Extra Hard)
White
FDA Compliant 21 CFR 177.1550

0.083"
0.250"
0000000
0000
1

1/4

"
1

3/4

"
0.250"
-110° to 500°
1-9
Rockwell R60 (Extra Hard)
White
FDA Compliant 21 CFR 177.1550

0.083"
0.250"
0000000
0000
1

3/8

"
2"
0.313"
-110° to 500°
1-9
Rockwell R60 (Extra Hard)
White
FDA Compliant 21 CFR 177.1550

0.140"
0.310"
0000000
0000
1

1/2

"
2

1/8

"
0.313"
-110° to 500°
1-9
Rockwell R60 (Extra Hard)
White
FDA Compliant 21 CFR 177.1550

0.140"
0.310"
0000000
00000
1

3/4

"
2

3/8

"
0.313"
-110° to 500°
1-9
Rockwell R60 (Extra Hard)
White
FDA Compliant 21 CFR 177.1550

0.140"
0.310"
0000000
00000