Tabletop Thermoforming Machines
Also known as vacuum formers, these machines heat plastic sheets until they're malleable, then use vacuum to form the plastic to a mold. Once the plastic is shaped and cooled, a burst of air separates it from the mold. Thermoformers function best with easy-to-form plastics, such as ABS, polystyrene, and PETG. For best results, create molds using porous aluminum, which allows the vacuum to remove air bubbles. Apply a mold-release lubricant for a clean separation.
Choose thermoformers with one heating zone for general, small-production applications, such as prototyping. These thermoformers use 10" × 12" sheets up to 5/32" thick.
Thermoformers with four heating zones heat faster and more evenly than our other thermoformer, so they conform to intricate shapes more accurately. Use with 18" × 12" sheets up to 1/4" thick. A touch-screen display prompts you when each step is complete, reducing operating error. There's also a safety interlock that prevents you from starting the vacuum step until the heating element is out of the way. These thermoformers store settings for up to 20 different jobs.
Optional reducing windows restrict the forming area, so you can use a smaller sheet of plastic, reducing waste. Compatible with thermoformers with four heating zones.
Optional carts transport and store accessories. Use them with thermoformers with four heating zones.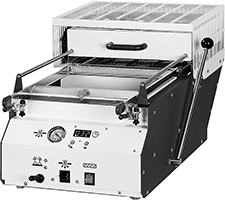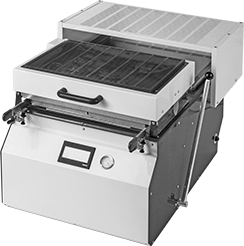 Four Heating Zones
No.

of
Heating
Zones

Lg.

Wd.

Ht.

Lg.

Wd.

Max.




Thick.

Max.




Vacuum,




in.

of Hg
Heating
Element
Material

Ht.

Wd.

Dp.

Current,


A

Wattage,


W
Voltage

Features
Each

For ABS

Plastic,

PETG

Plastic,

Polystyrene

Plastic,

PVC Plastic

1
11"
9"
5.3"
12"
10"

5/32

"
22
Quartz
14"
17.9"
29.4"
13
1,300
120V AC
Pressure Gauge
00000000
000000000
4
17"
11"
7"
18"
12"

1/4

"
25
Quartz
21"
25"
39"
13
1,650
120V AC
Pressure Gauge, Programmable 4" Touch Screen, Safety Interlock
0000000
00000000
Optional Carts for Thermoforming Machines with Four Heating Zones
Lg.

Wd.

Ht.

Material
Caster Type
Assembled or
Unassembled
Each
31"
22"
29"
Steel
Four Swivel Casters (Two with Brakes)
Unassembled
0000000
0000000