Flow-Adjustment

Valves with

Grooved-End

Fittings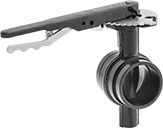 Valve

Type:

Butterfly

For Use

With:

Water
Specifications

Met:

MSS-SP-67
Commonly used in water service pipelines and HVAC systems, these valves have grooved ends that connect to pipe with a clamp (not included) for easy installation. Since there's no heat or threading required, they provide quick access to your pipeline for routine maintenance. All gradually open and close to adjust and regulate flow. Valves have 10 flow-adjustment positions. Fix the lockable lever handle in place using a padlock (not included) with a shackle diameter up to 5/16".
Flow coefficient (Cv) is the amount of water (in gallons per minute) at 60° F that will flow through a fully open valve with a difference of 1 psi between the inlet and the outlet.
For technical drawings and 3-D models, click on a part number.
Pipe
Size

For

Max.


Shackle

Dia.

Flow
Coefficient

(Cv)

Max.

Pressure
Temperature


Range,

° F

End-to-End




Lg.

Ht.

Lg.

Each

Polyamide-Coated

Ductile Iron Body

Grooved End × Grooved End

2

5/16

"
195
300 psi @ 70° F
-20° to 200°
3

5/16

"
8

3/16

"
12

7/8

"
0000000
0000000
3

5/16

"
Not Rated
300 psi @ 70° F
-20° to 200°
3

7/8

"
9"
12

7/8

"
0000000
000000
4

5/16

"
930
300 psi @ 70° F
-20° to 200°
4

9/16

"
10

3/4

"
13"
0000000
000000
6

5/16

"
Not Rated
300 psi @ 70° F
-20° to 200°
5

7/8

"
14

1/16

"
17

3/8

"
0000000
000000