How to

Identify and Measure Fittings
Pipe size is an industry designation, not the actual size. View information about how to measure threaded and unthreaded pipe and pipe fittings.
Plastic
Cam-and-Groove

Hose Couplings with

Shut-Off

Valve for Chemicals
These polypropylene couplings are lighter in weight than metal cam-and-groove couplings, yet have the corrosion resistance to handle chemical applications. They have excellent strength and abrasion resistance. Couplings consist of a plug and a socket that are sold together as a set. Use them to quickly connect and disconnect medium-to large-diameter hose lines. Also known as dry disconnects and double shut-off couplings, the plug and the socket both have a shut-off valve for minimal fluid loss when disconnecting the hose line. To connect, insert the plug into the socket, press the locking levers down, and turn the valve handles to the open position. The locking levers prevent accidental disconnection. To disconnect, turn the valve handles to the closed position, lift both levers, and pull out the plug. Couplings cannot be disconnected when the valves are open. They are not compatible with any other style of coupling. Dust covers are included to protect the ends of couplings when not in use.
Note: The listed length refers to the length of the coupling when connected.
Warning: Relieve all pressure before disconnecting the couplings. Do not use cam-and-groove couplings with compressed air or gas.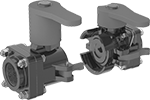 For Use

With:

Acetic

Acid,

Magnesium Chloride

Max.

Pressure:

100

psi @

72° F

Temperature

Range:

-20° to 150° F
Coupling
Size
Pipe
Size
Thread
Type
Connection
Style
OD
Connection
Style
ID
Valve
Type
Each

Pkg.




Qty.

Pkg.

Polypropylene Plastic

1

1/2

1

1/2

NPT

Cam-and-Groove Male × Threaded Female
2

1/8

"
Cam-and-Groove Female × Threaded Female
2

1/8

"
Ball
0000000
0000000
10
0000000
000000
2
2
NPT

Cam-and-Groove Male × Threaded Female
2

1/2

"
Cam-and-Groove Female × Threaded Female
2

1/2

"
Ball
0000000
000000
10
0000000
00000