Tank-Mount

Pressure-Regulating

Valves for Fuel Gases
For Use

With:

See Table
Temperature

Range:

-20° to 120° F
Attach these valves to acetylene, hydrogen, methane, propane, or propylene tanks to reduce a high inlet pressure to a lower, stable outlet pressure. They have Compressed Gas Association (CGA) numbered inlet fittings for secure connections to compressed gas tanks. Choose a valve with the same CGA number as your tank and other system components. Valves come with a gauge to monitor outlet pressure and a gauge to monitor inlet pressure from the tank.
Choose a valve with a maximum outlet pressure that's approximately twice your application's normal operating pressure. Your operating pressure should never exceed 75% of the valve's maximum outlet pressure.
Single-stage valves reduce pressure in one step, which causes the outlet pressure to fluctuate slightly as you empty the tank. They're best for applications where a constant outlet pressure isn't critical.
Two-stage valves progressively reduce pressure over two steps for more consistent outlet pressure at all times. They're often used in applications that require a constant outlet pressure regardless of the tank level.
Valves with a brass body have a longer service life than valves with a brass and steel body.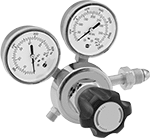 Male
Outlet ×
Male Inlet
Single-Stage
Valve With Knob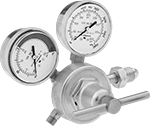 Male
Outlet ×
Male Inlet
Single-Stage
Valve With
T-Handle
CGA
Number

Location
Thread
Direction
Pressure
Gauge


Range,

psi
Thread
Size

Location
Thread
Direction
Pressure


Range,


psi
Pressure
Adjustment
Method
Body
Seal
Diaphragm
Each

For Use With Propane and Propylene

UNF Male Outlet × NGO Male Inlet

CGA 510

Side
Left Hand
0 to 400
9/16"-18

Side
Left Hand
0 to 50
T-Handle
Brass
PTFE
Rubber
0000000
0000000
CGA 510

Side
Left Hand
0 to 400
9/16"-18

Side
Left Hand
5 to 50
Knob
Brass/Steel
PTFE
Rubber
0000000
000000

Male
Outlet ×
Male Inlet
Two-Stage
Valve With
T-Handle
CGA
Number

Location
Thread
Direction
Pressure
Gauge


Range,

psi
Thread
Size

Location
Thread
Direction
Pressure


Range,


psi
Pressure
Adjustment
Method
Body
Seal
Diaphragm
Each

For Use With Propane and Propylene

UNF Male Outlet × NGO Male Inlet

CGA 510

Side
Left Hand
0 to 400
9/16"-18

Side
Left Hand
0 to 50
T-Handle
Brass/Steel
PTFE
Rubber
0000000
0000000