Easy-Access

Threaded

On/Off

Valves
Extend your reach in hard-to-access areas—turn these valves on and off using a square ratchet to grasp the hole at the end of the handle. They are full port, so they do not restrict flow.
316 stainless steel valves are more corrosion resistant than bronze valves.
Lockable lever handles can be fixed in place using a padlock (not included) with a shackle diameter up to 5/16".
Flow coefficient (Cv) is the amount of water (in gallons per minute) at 60° F that will flow through a fully open valve with a difference of 1 psi between the inlet and the outlet.
For technical drawings and 3-D models, click on a part number.
Lockable Lever Handle with Ratchet Opening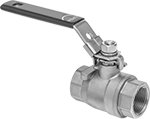 Valve with Lockable Lever Handle

Lockable Lever Handle with Ratchet Opening
Valve

Type:

Ball

For Use

With:

Air,

Argon,

Helium,

Krypton,

Neon,

Oil,

Water,

Xenon
Seal

Material:

PTFE Plastic
Pipe
Size

Flow
Coefficient

(Cv)

Max.

Pressure
Temperature


Range,

°F

Vacuum

Rating,




in.

of Hg

End-to-End




Lg.

For

Max.


Shackle

Dia.

Each

316 Stainless Steel Body

NPT Female × NPT Female

1/4

7
1000 psi @ 100° F
-25° to 400°
29
2

5/16

"

5/16

"
0000000
000000

3/8

8
1000 psi @ 100° F
-25° to 400°
29
2

5/16

"

5/16

"
0000000
00000

1/2

15
1000 psi @ 100° F
-25° to 400°
29
2

7/16

"

5/16

"
0000000
00000

3/4

35
1000 psi @ 100° F
-25° to 400°
29
2

7/8

"

5/16

"
0000000
000000
1

60
1000 psi @ 100° F
-25° to 400°
29
3

5/16

"

5/16

"
0000000
000000
1

1/4

110
1000 psi @ 100° F
-25° to 400°
29
3

11/16

"

5/16

"
0000000
000000
1

1/2

185
1000 psi @ 100° F
-25° to 400°
29
4

1/8

"

5/16

"
0000000
000000
2

360
1000 psi @ 100° F
-25° to 400°
29
4

15/16

"

5/16

"
0000000
000000