About
Backflow-Prevention

Valves
Flange-Mount

Check Valves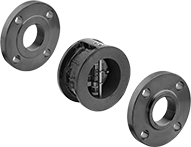 Shown with Flanges
(Not Included)
For Use

With:

Air,

Argon,

Helium,

Krypton,

Neon,

Water,

Xenon
Disc

Material:

Bronze
Seal

Material:

Buna-N Rubber
Sandwich these valves between two ANSI flanges for backflow prevention at a fraction of the weight of flanged check valves and a reduced pipeline footprint. ANSI flanges are sold separately. All valves open to allow flow in one direction and close when flow stops or reverses.
Flow coefficient (Cv) is the amount of water (in gallons per minute) at 60° F that will flow through a fully open valve with a difference of 1 psi between the inlet and the outlet.
For technical drawings and 3-D models, click on a part number.
Pipe
Size

Flow
Coefficient

(Cv)

Max.

Pressure

Min.

Opening


Pressure,

psi
Temperature


Range,

°F

End-to-End




Lg.

For Flange
Class
Each

Cast Iron Body

Flanged × Flanged

10

2,400
200 psi @ 70° F
1.25
-20° to 250°
4

1/4

"
125
0000000
0000000