Heat Pipes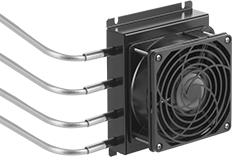 Protect computers, sensitive electronic components, lighting, injection molders, and HVAC systems from damage by routing heat away from them and toward a heat sink, where the heat can be dissipated. For best results, heat pipes should be soldered to heat sinks and other components. For small jobs and prototypes, however, they can be joined with thermal epoxy. Cooling capacity is the amount of heat that a heat pipe can carry.
Flat heat pipes, often called vapor chambers, can be embedded into your heat sink to spread heat uniformly across the base, helping the heat to dissipate faster.
Heat pipes with a sintered wick handle high fluctuations in temperature better than those with a grooved wick. They're also best for applications that will require many bends in the pipe. Position them horizontally or vertically—they work well in both orientations.

Flat Pipe
Length,


mm

Thickness,


mm
Cooling
Capacity


(Installed Length)

Temperature


Range,




°F

Material
Working
Fluid
Each

Sintered Wick

70
2.5
160 Btu/hr. (42 mm), 130 Btu/hr. (53 mm), 110 Btu/hr. (63 mm)
90° to 245°
Copper
Water
0000000
000000
100
2.5
110 Btu/hr. (60 mm), 90 Btu/hr. (75 mm), 70 Btu/hr. (90 mm)
90° to 245°
Copper
Water
0000000
00000
150
2.5
70 Btu/hr. (90 mm), 60 Btu/hr. (113 mm), 50 Btu/hr. (135 mm)
90° to 245°
Copper
Water
0000000
00000
200
2.5
50 Btu/hr. (120 mm), 40 Btu/hr. (150 mm), 30 Btu/hr. (180 mm)
90° to 245°
Copper
Water
0000000
00000
70
3
220 Btu/hr. (42 mm), 170 Btu/hr. (53 mm), 150 Btu/hr. (63 mm)
90° to 245°
Copper
Water
0000000
00000
100
3
150 Btu/hr. (60 mm), 120 Btu/hr. (75 mm), 100 Btu/hr. (90 mm)
90° to 245°
Copper
Water
0000000
00000
150
3
100 Btu/hr. (90 mm), 80 Btu/hr. (113 mm), 60 Btu/hr. (135 mm)
90° to 245°
Copper
Water
0000000
00000
200
3
70 Btu/hr. (120 mm), 60 Btu/hr. (150 mm), 50 Btu/hr. (180 mm)
90° to 245°
Copper
Water
0000000
00000
75
5
380 Btu/hr. (45 mm), 310 Btu/hr. (56 mm), 250 Btu/hr. (68 mm)
90° to 245°
Copper
Water
0000000
00000
150
5
190 Btu/hr. (90 mm), 150 Btu/hr. (113 mm), 120 Btu/hr. (135 mm)
90° to 245°
Copper
Water
0000000
00000
200
5
140 Btu/hr. (120 mm), 110 Btu/hr. (150 mm), 90 Btu/hr. (180 mm)
90° to 245°
Copper
Water
0000000
00000
350
5
80 Btu/hr. (210 mm), 60 Btu/hr. (263 mm), 50 Btu/hr. (315 mm)
90° to 245°
Copper
Water
0000000
00000