Vibrating Feeders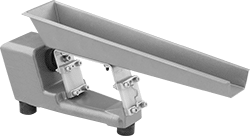 Vibrating Feeder
Generating vibration with electromagnets, these have no mechanical parts that can wear out and shorten service life. A built-in vibrator shakes material to stimulate flow through the trough. They're often used to feed material in mixing or packaging operations.
Vibrating feeders with a 304 stainless steel trough are often used in wet and corrosive conditions.
Required controller adjusts speed.
For technical drawings and 3-D models, click on a part number.
Capacity,




lbs./hr.

Current

Volume,


dBA

Max.




Temp.,

°F

Lg.

Wd.

Dp.

Ht.

Each
Each

120V AC Single

Phase—

Wire Leads

304 Stainless Steel Trough

1,250
0.35A
52
180°
12"
1

1/2

"
2"
6

3/8

"
00000000
000000000
0000000
0000000
4,000
0.9A
52
180°
18"
3"
2

3/4

"
8

5/8

"
00000000
00000000
0000000
000000
8,000
2A
52
180°
20"
5"
3"
9"
00000000
00000000
0000000
000000
10,000
2.3A
52
180°
24"
6"
3"
9

11/16

"
00000000
00000000
0000000
000000

Steel Trough

1,250
0.35A
52
180°
12"
1

1/2

"
2"
6

3/8

"
00000000
000000
0000000
000000
4,000
0.9A
52
180°
18"
3"
2

3/4

"
8

5/8

"
00000000
00000000
0000000
000000
8,000
2A
52
180°
20"
5"
3"
9"
00000000
00000000
0000000
000000
10,000
2.3A
52
180°
24"
6"
3"
9

11/16

"
00000000
00000000
0000000
000000