Air-Powered

Machine Vises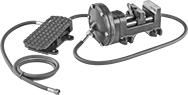 Single Acting

Double Acting
Compressed air controlled by a foot pedal allows hands-free operation. Step on the pedal to instantly close the moving jaw; step again to release it. Use these vises in production applications with frequent insertion and removal of workpieces on Bridgeport-style milling machines and drill presses. Vises with a jaw height of 1 1/4", 1 5/16", and 2 1/2" can also be used on surface grinders.
To calculate the gripping force on your workpiece, multiply your inlet air pressure by the gripping force factor. Add an air regulator to control force.
Single-acting vises require the jaw to be manually set to the desired position before use, so these vises are best for repetitive clamping of consistent workpiece sizes. Once the jaw is set, activating the air pressure will move the jaw up to 5/8" to clamp. When air pressure is released, a spring return inside the air cylinder returns the jaw to the set position.
Double-acting vises use air pressure to open and close the jaws without manual adjustment, making these vises a good choice when clamping workpieces of varying size.
Wd.

Ht.

Max.


Opening
Pipe
Size

Thread
Type
Gender
Maximum


Pressure,


psi
Gripping
Force
Factor
Overall


Ht.

Body


Lg.

Mounting
Fasteners
Included

No.


of

Dia.

Each

Fixed Base

Single Acting

3"
1

1/4

"
3

1/8

"

1/4

NPSM

Male
120
15
5

3/8

"
10

1/4

"
No
4

17/32

"
0000000
0000000
4"
1

5/16

"
4

5/8

"

1/4

NPSM

Male
120
15
5

3/8

"
13

1/2

"
No
4

21/32

"
0000000
000000

Double Acting

3"
1

1/4

"
3

1/8

"

1/4

NPSM

Male
120
15
5

3/8

"
13

11/16

"
No
4

17/32

"
0000000
000000
4"
1

5/16

"
5"

1/4

NPSM

Male
120
15
5

3/8

"
18

1/4

"
No
4

21/32

"
0000000
000000
6"
2

1/2

"
7

3/8

"

1/4

NPSM

Male
120
19
6

17/32

"
25

5/8

"
No
4

11/16

"
0000000
00000000