Dovetail
Milling-Machine

Vises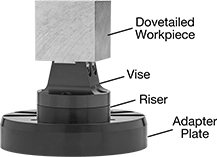 Designed to hold parts on 4- and 5-axis milling machines, these vises provide rigid clamping while exposing five full sides of the workpiece. This allows even complex parts to be completed in a single operation.
Vises require a dovetail and locating slot to be cut into the bottom side of your material. The dovetail-shaped jaws grip the matching dovetail in your material for consistent locating and high repeatability. Use a Carbide Dovetail End Mill to cut dovetail notches into your material.
While the vises can be mounted directly to some machines or rotary tables, most will require an adapter plate.
Adapter plates have a variety of slots for mounting compatibility with the majority of milling machines and rotary tables.
Risers raise the vise off a machine or rotary table. Risers are compatible with the adapter plates.
For technical drawings and 3-D models, click on a part number.