Color-Coded

Quarter-Turn

Shut-Off

Valves for Hot and Cold Water
Quickly identify hot and cold water lines with these red or blue valves. The low-profile elbow shape and small handle are made to fit into tight spaces, such as plumbing outlet boxes (sold separately). Connect the NH/NST threads to a water hose on a washing machine or commercial plumbing fixture.
Valves with a solder-connect inlet are used for copper water lines.
Valves with a barbed inlet are compatible with Viega PEX tubing; attach them to your line with a crimping tool and crimping ring (both sold separately).
Solder-Connect Female Inlet × NH/NST Male Outlet

Solder-Connect
Inlet—
For Hot Water

Solder-Connect
Inlet—
For Cold Water
For Inlet
Tube OD
For Inlet Copper
Tube Size
Outlet
Hose
Size
Handle
Material
Choose a
Handle
Color
Each

Brass

5/8

"

1/2

3/4
Powder-Coated Aluminum
0000000
000000
Barbed Male Inlet × NH/NST Male Outlet
Barbed
Inlet—
For
Hot Water

Barbed
Inlet—
For
Cold Water
For
Inlet
Tube ID
Outlet
Hose
Size
Handle
Material
Compatible
With
Specifications
Met
Choose a
Handle
Color
Each

Brass

1/2

"
3/4
Powder-Coated Aluminum
Viega PEX
ASTM F1807
0000000
000000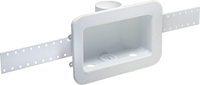 Wd.

Ht.

Dp.

Material
Mounting
Fasteners Included
Number of
Mounting Holes
Mounting
Hole

Dia.

Each
10

1/4

"
6

3/4

"
2

1/2

"
PVC Plastic

No
36

1/8

"
0000000
000000