Water-Quality

Test Strips
Dip these strips into your liquid to quickly test water conditions. Strips change color to indicate the value reached; match the color of the strip to the color chart on the bottle to interpret the results.
Single-Substance Test Strips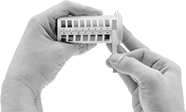 For Testing
Range

No.

of
Strips
Each
Free Chlorine; Total Chlorine
Total Alkalinity
Total Hardness
pH
1-10 ppm
0-240 ppm
0-25 gpg
6.2-8.4 pH
50
00000000
000000

Check pH levels without a meter. When this testing paper is dipped in a sample, it changes color to indicate pH. Match the color of the testing paper to the color chart to determine the sample's pH.
pH Range
Numeric
Increments

No.

of Color
Points

Wd.

Lg.,




ft.

Each
0-13.0 pH
1
14

1/2

"
50
0000000
000000
1.0-6.0 pH
1
6

1/4

"
15
0000000
0000
1.0-11.0 pH
1
11

1/2

"
50
0000000
00000
3.0-5.5 pH
0.5
6

1/2

"
50
0000000
00000
3.0-9.0 pH
1
7

1/2

"
50
0000000
00000
6.0-8.0 pH
0.4
7

1/2

"
50
0000000
00000
6.5-13.0 pH
0.5
14

1/4

"
15
000000
0000
8.0-9.5 pH
0.5
4

1/4

"
15
0000000
0000
10.0-12.0 pH
0.5
5

1/4

"
15
0000000
0000