Water-Resistant

Note Pads

Lined with Top Spiral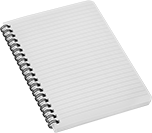 Lined with Side Spiral
Lined
Letter-Size
with Side Spiral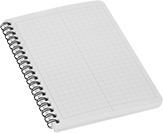 Grid with Side Spiral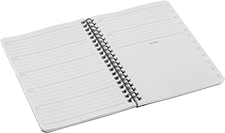 Planner

Fill in the
planner's
weekly calendar with your own dates
Scribble notes, record measurements, and make plans, even in wet and dirty environments—the sheets in these pads are coated to repel water, oil, mud, and grease. The paper meets ANSI/NISO Z39.48 standards for archival-grade paper, which means it's acid-free and won't yellow or deteriorate. Unlike those made with synthetic paper, these note pads are also recyclable. They resist heat and won't stretch, and they hold up to long-term storage.
Often used outdoors or in manufacturing plants, these note pads won't tear, stain, or buckle, and humidity won't make them soggy. They're bound with corrosion-resistant wire and protected by a flexible plastic cover. Use a pencil or any-angle ink pen while they're wet, and a ball-point pen or permanent marker when they're dry. Highlighters, gel pens, and fountain pens won't work on this paper.
Planners don't have dates, so you can start a new pad at any time of the year. Each day has a blank square for you to write the date and a box to check off the month. A two-page spread for each week gives you plenty of writing space.
Wd.

Lg.

Paper
Size
Location
Type
Color
Cover
Material
Number
of Sheets
Specifications Met
Each

Lined

4"
6"
__
Top
Spiral
White
Plastic
50
ANSI/NISO Z39.48
0000000
00000
4

5/8

"
7"
__
Side
Spiral
White
Plastic
32
ANSI/NISO Z39.48
0000000
00000
6"
9"
__
Top
Spiral
Yellow
Plastic
50
ANSI/NISO Z39.48
0000000
00000
8

1/2

"
11"
Letter
Side
Spiral
White
Plastic
42
ANSI/NISO Z39.48
0000000
00000

Grid

4

5/8

"
7"
__
Side
Spiral
Yellow
Plastic
32
ANSI/NISO Z39.48
0000000
0000

Planner

4

5/8

"
7"
__
Side
Spiral
Gray
Plastic
53
ANSI/NISO Z39.48
0000000
00000
Chemical-,

Tear-,

and

Water-Resistant

Note Pads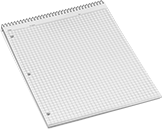 Grid

Lined
These note pads retain all printed information even in environments with corrosive chemicals and high-pressure washdowns.
Water-Resistant

Printer Paper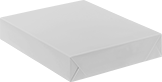 A special coating repels water.
Paper
Size

Wd.

Lg.

Paper


Weight,

lbs.

Pattern
Color
Number
of Sheets
Each
Letter
8

1/2

"
11"
20
Blank
White
50
0000000
000000
Metal-Detectable

Printer Paper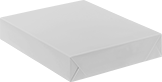 Print signs, labels, checklists, and packing slips for use around food processing lines without the risk of contaminating the food. A thin layer of aluminum foil is laminated within this paper, so it can be picked up by a metal detector if any piece of it falls into your line. Use this paper to help you comply with Hazard Analysis and Critical Control Point (HACCP) programs for food safety.
This paper has a coating to resist tears and repel water, grease, and oil. The paper won't deteriorate over time and can even be used outdoors. No special inks, toners, pens, or markers are required for printing or writing. The coating is FDA compliant for contact with food in packaging, transporting, or storing applications.
Paper
Size

Wd.

Lg.

Paper


Weight,

lbs.

Pattern
Specifications Met
Color
Number
of Sheets
Each
Letter
8

1/2

"
11"
32
Blank
FDA Compliant 21 CFR 175.105
White
100
0000000
000000