About Carbon
Steel,

Alloy

Steel,

Spring

Steel,

and Cast Iron
Corrosion-Resistant

A588 Alloy Steel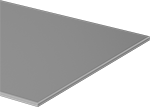 Yield

Strength:

50,

000 psi

Hardness:

Not Rated
Heat

Treatable:

Yes
Specifications

Met:

See table
Also known as weathering steel, this high-strength steel develops a thin layer of rust over time in outdoor environments that protects the inner steel from corrosion. It's commonly used in bridges, buildings, and fencing. Since it doesn't require paint for corrosion resistance, this steel is lower maintenance for outdoor use than other steels. With a yield strength of 50,000 psi, it's stronger than common low-carbon steels such as A36. Steel meets ASTM standards for corrosion resistance and strength.
For technical drawings and 3-D models, click on a part number.

Certificates with a traceable lot number are available for these products. Download certificates from ORDER HISTORY after your order ships.
Thickness
Thickness
Tolerance
Specifications Met
Each

3/16

"
-0.01" to 0.008"
ASTM A242, ASTM A588
00000000
0000000

1/4

"
-0.01" to 0.008"
ASTM A242, ASTM A588
00000000
000000

5/16

"
-0.01" to 0.008"
ASTM A242, ASTM A588
00000000
000000

3/8

"
-0.01" to 0.008"
ASTM A242, ASTM A588
00000000
000000

1/2

"
-0.01" to 0.008"
ASTM A242, ASTM A588
00000000
000000

5/8

"
-0.01" to 0.008"
ASTM A588
00000000
000000

3/4

"
-0.01" to 0.008"
ASTM A588
00000000
000000
1"
-0.01" to 0.008"
ASTM A588
00000000
000000