Welding Leggings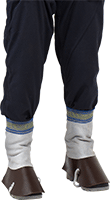 A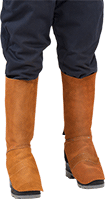 B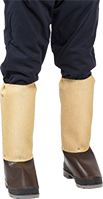 C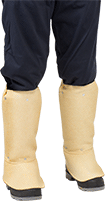 D
These abrasion-, tear-, and cut-resistant leggings protect your lower legs and feet against radiant heat, flames, and welding sparks.
Style A are also known as spats. Made of leather, these leggings conform to your foot and ankle for lightweight protection. They have an elastic band that hugs the lower calf. Adjustable foot straps keep foot covers in place.
Style B are knee-high leather; they conform to your legs better than Kevlar guards without weighing you down. They have a foot strap to help keep covers in place.
Styles C and D have a spring-tension frame, which supports leggings so they keep their shape and won't slide off. They are knee-high Kevlar for better cut-resistance than leather. Style C have leather foot covers.
Style
Material
Height
Closure
Type
Features
Color
Size
Pair
A
Leather
10"
Snaps
Adjustable Foot Strap
Gray/Brown
One Size
000000
000000
B
Leather
14"
Hook and Loop
Foot Strap
Brown
One Size
0000000
00000
C
Kevlar Aramid Fabric and Leather
14"
Spring-Tension Frame
__
Beige
One Size
000000
000000
D
Kevlar Aramid Fabric
14"
Spring-Tension Frame
__
Beige
One Size
000000
000000