Welding Tank Wrenches
Turn the fittings on welding tanks.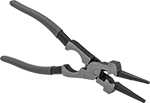 Designed for a variety of welding tasks, these pliers have serrated jaws that remove weld spatter and grip, pull, and cut wire. They can also be used to install and remove contact tips and nozzles and turn fittings, nuts, and bolts. The handles have plastic grips for comfort.
Overall


Lg.

Lg.

Texture
Material
With Wire
Cutter

Max.


Gauge

Max.




Dia.

Type

Each

Flat Jaws and Cushion Grip

9"
2

3/4

"
Serrated
Steel
Yes
11
0.091"
Soft Wire, Hardened Wire, Nickel Ribbon Wire
00000000
000000
Welding Hammers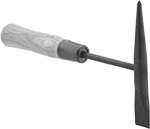 A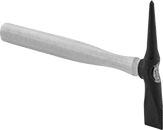 B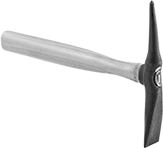 C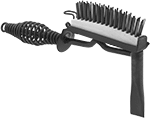 D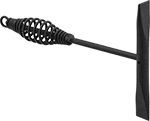 E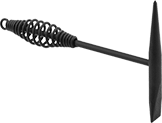 F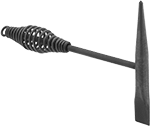 G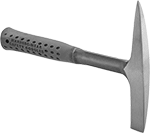 H
Chip and scrape away weld spatter, paint, and rust.
Hickory handles resist vibration. Steel handles are stronger than wooden handles but have less vibration resistance.
Wire coil grips are flexible and dissipate heat. Textured grips provide slip resistance.
Wire brush can be replaced when worn.
Wt.

Style
Blade


Wd.

Overall


Lg.

Head
Material
Features
Each
Each

Hickory Handle with Plain Grip

A
10 oz.
Chisel/Pick
1"
10

1/2

"
Steel
__
0000000
000000
000000
00
B
1 lbs.
Chisel/Pick
1

1/4

"
12

1/2

"
Steel
__
0000000
00000
0000000
000000
C
1 lbs.
Chisel/Pick
1

1/4

"
12

1/2

"
Steel
__
0000000
00000
0000000
00000

Steel Handle with Wire Coil Grip

D
6 oz.
Chisel
1"
11

1/2

"
Steel
Wire Brush
0000000
00000
000000
00
E
10 oz.
Chisel
1"
10

1/2

"
Steel
__
0000000
00000
000000
00
E
9 oz.
Chisel/Pick
1"
10

1/2

"
Steel
__
0000000
00000
000000
00
F
7 oz.
Chisel/Pick
1"
10

1/2

"
Steel
__
0000000
00000
000000
00
G
12 oz.
Chisel/Pick
1"
11"
Steel
__
0000000
00000
000000
00

Steel Handle with Textured Grip

H
14 oz.
Chisel/Pick

15/16

"
11"
Steel
__
0000000
00000
000000
00
| | | | |
| --- | --- | --- | --- |
| Replacement Steel Brush | 0000000 | Each | 00000 |