Welding Hand Pads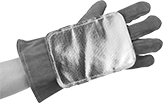 Slip these pads over gloves for additional protection against sparks and spatter. They are made from highly heat-reflective material and have straps to hold them in place.
Welding Arm Pads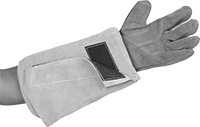 These pads allow you to rest your arm on a hot surface while welding. Use them to shield your arms from welding sparks and spatter.
Welding Finger Cots

Protect your finger from welding sparks and spatter, molten metal, and high heat up to 1800° F without interfering with detailed work. These flame-resistant cots are made of flexible silica for a tight yet comfortable fit. Wear them over a welding glove (not included) to extend the life of your glove.
Finger Cot
Coverage
Color
Size
Each

Silica Fabric

Full
White
One Size
000000
000000
Flame-

and

Heat-Resistant

Pads

Pad


Prevent heat and flame damage in small spaces—these pads are a good alternative to large blankets during localized, high-heat applications. They are for intermittent contact with flames and hot surfaces.