Drum Cones for Welding Wire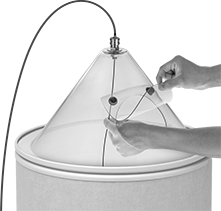 (Drum
and Wire Not
Included.
Conduit Fitting Sold
Separately.)
These snap-on drum cones shield welding wire from slag, grinding dust, and other contaminants that could weaken welds. Filter wire to your hose through the access flap at the top—the cone shape ensures that wire will move smoothly without tangling. These cones are clear so you can see how much wire is left in the drum. They're compatible with the most common welding wire drum sizes.
Add conduit fittings (sold separately) to connect welding wire conduit to drum cones. They have a nylon sleeve to protect soft metals such as aluminum from scratching.
Stick Electrode Carriers
Protect your stick electrodes during transport. Plastic carrier is air and water tight.
MIG Welding

Wire Spool Keepers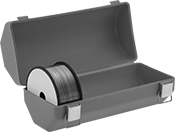 Ensure high-quality welds by protecting your welding wire from humidity and corrosion.
For

Max.


Spool

Dia.

For

Max.

Number
of Spools
Material
Each
4"
5
Plastic
0000000
000000