Wheelbarrows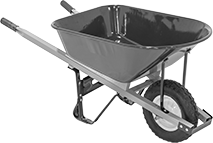 A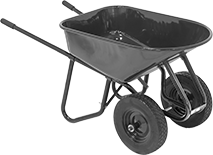 B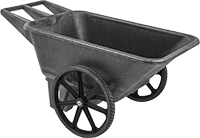 C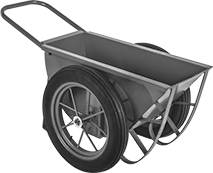 D
Use these wheelbarrows to move smaller loads.
Style A have one wheel, making them easier to turn than wheelbarrows with two wheels.
Style B have two wheels for added stability.
Styles C and D have wheels on the side of the cart for tighter turning and easier dumping.
Style D have reinforced rockers on the front to help support the load during dumping.
Pneumatic rubber wheels provide a cushioned ride over the roughest surfaces, such as gravel. Semi-pneumatic and flat-free rubber wheels won't go flat, and provide a cushioned ride.
O'all




Cap.,




lbs.

Volume


Cap.,




cu.

ft.

Lg.

Wd.

Ht.

Body
Color
Frame
Color
Handle
Material
Wheel
Configuration

Dia.

Material
Type
Assembled
or
Unassembled
Each
350
6
59

3/4

"
25"
27

3/4

"
Blue
Black
Painted Steel
One Axle-Mounted Wheel
17"
Rubber
Flat Free
Unassembled
0000000
0000000

Polyethylene Plastic

350
6
58"
30"
28"
Black
Black
Varnished Wood
One Axle-Mounted Wheel
16"
Rubber
Pneumatic
Unassembled
0000000
000000
750
6
58"
30"
28"
Black
Black
Varnished Wood
One Axle-Mounted Wheel
16"
Rubber
Flat Free
Unassembled
0000000
000000
750
8
58"
34"
29"
Black
Black
Varnished Wood
One Axle-Mounted Wheel
16"
Rubber
Pneumatic
Unassembled
0000000
000000
750
8
58"
34"
29"
Black
Black
Varnished Wood
One Axle-Mounted Wheel
16"
Rubber
Flat Free
Unassembled
0000000
000000
350
6
59

1/2

"
25

1/2

"
29

1/2

"
Blue
Black
Painted Steel
Two Axle-Mounted Wheels
17"
Rubber
Flat Free
Unassembled
0000000
000000

Polyethylene Plastic

350
6
58"
30"
28"
Black
Black
Varnished Wood
Two Axle-Mounted Wheels
16"
Rubber
Pneumatic
Unassembled
0000000
000000

Polyethylene Plastic

200
3

1/2

47"
27

1/2

"
24

3/4

"
Black
__
__
Two Axle-Mounted Wheels
20"
Rubber
Semi-Pneumatic
Unassembled
00000000
000000
300
7

1/2

58"
32

3/4

"
28

1/4

"
Black
__
__
Two Axle-Mounted Wheels
20"
Rubber
Semi-Pneumatic
Assembled
00000000
000000

Painted Steel

1,760
6
58

1/2

"
29

1/2

"
33"
Blue
Blue
Painted Steel
Two Axle-Mounted Wheels
27"
Rubber
Pneumatic
Assembled
0000000
00000000
1,760
8
59

3/4

"
34

1/2

"
33

1/4

"
Blue
Blue
Painted Steel
Two Axle-Mounted Wheels
27"
Rubber
Pneumatic
Assembled
0000000
00000000
| | | | |
| --- | --- | --- | --- |
| Pneumatic Wheel Repair Kit for Style A | 00000000 | Each | 0000000 |
| Replacement 8 cu. ft. Polyethylene Pan for Style A | 00000000 | Each | 000000 |
| Replacement Varnished Wood Handles for Styles A and B | 00000000 | Pair | 00000 |
| 16" Flat Free Wheel Repair Kit for Style A | 00000000 | Each | 000000 |
| Replacement 6 cu. ft. Powder-Coated Steel Pan for Style A | 0000000 | Each | 000000 |
| 17" Flat Free Wheel Repair Kit for Style A | 0000000 | Each | 000000 |
| Replacement Painted Steel Handle for Style A | 0000000 | Pair | 00000 |
| Replacement 6 cu. ft. Polyethylene Pan for Style A and B | 00000000 | Each | 00000 |
| Pneumatic Wheel Repair Kit for Style B | 00000000 | Each | 000000 |
| Replacement 6 cu. ft. Powder-Coated Steel Pan for Style B | 0000000 | Each | 000000 |
| Flat Free Wheel Repair Kit for Style B | 0000000 | Each | 000000 |