Unthreaded-Hole

Spoked Hand Wheels
Tap custom threads or drill a hole in the side of the hub to secure with a set screw. The spoked design allows a better grip around the rim than solid hand wheels to manually adjust valves, presses, and machine components. All are dished, which keeps hands away from machinery.
Hand wheels with a revolving handle have a handle that spins freely, so wheels are easy to turn.
Hand wheels with a revolving/folding handle have a free-spinning handle that makes these wheels easy to turn and folds down, so it's out of the way when not in use.
Plastic hand wheels are a lightweight alternative to metal. They resist oil, grease, and solvents.
For technical drawings and 3-D models, click on a part number.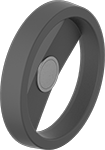 Without Handle
Number
of Spokes

Dia.

Projection

Dia.

Projection

Dia.

Dp.

Set Screw
Included

Temp.




Range,

°F

Each

Black Polypropylene Plastic

2
3

29/32

"
1

15/32

"

31/32

"

3/4

"

3/8

"

21/32

"
No
32° to 195°
0000000
000000
Wheel with Revolving Handle

Two-Spoked
Wheel with Revolving and
Revolving/Folding
Handle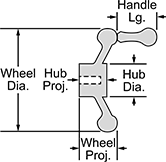 With Handle
Number
of Spokes

Dia.

Projection

Dia.

Projection

Dia.

Dp.

Handle


Lg.

Set Screw
Included

Temp.




Range,

°F

Each

Black Polypropylene Plastic

2
3

29/32

"
1

15/32

"

31/32

"

3/4

"

3/8

"

21/32

"
2

3/16

"
No
32° to 195°
0000000
000000
Wheel with Revolving/Folding Handle

Two-Spoked
Wheel with Revolving and
Revolving/Folding
Handle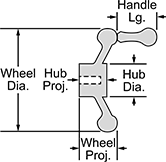 With Handle
Number
of Spokes

Dia.

Projection

Dia.

Projection

Dia.

Dp.

Handle


Lg.

Set Screw
Included

Temp.




Range,

°F

Each

Black Polypropylene Plastic

2
3

29/32

"
1

15/32

"

31/32

"

3/4

"

3/8

"

21/32

"
2

3/16

"
No
32° to 195°
0000000
000000