Wilkerson Modular Compressed Air
Filter/Regulator/Lubricators
(FRLs)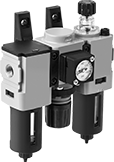 Inline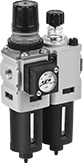 Stacked
A Wilkerson filter, regulator, and lubricator are combined to provide clean, lubricated compressed air at your required pressure. Regulator is relieving style, so it exhausts when the downstream pressure exceeds the set pressure. Filter and lubricator have a clear bowl or sight glass so you can monitor the contents inside. Use the included mounting brackets to attach the filter/regulator/lubricator to a wall or equipment.
Stacked filter/regulator/lubricators require less horizontal space than inline FRLs. The filter and regulator are joined top-to-bottom with the lubricator on the side.
Joiner clamps (sold separately) connect the filter/regulator/lubricator to another Wilkerson modular component with the same series number. They come with mounting brackets.
End block sets (sold separately) allow you to swap out filter/regulator/lubricator components without unthreading your air line connections. The blocks remain connected to your pipe while you replace components between them.