Cable Saws for Wood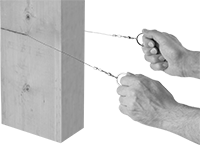 Cut through branches and logs in hard-to-reach areas. Made of flexible cable, these saws are thinner and more lightweight than traditional saws. They fit in compact spaces for easy carrying. All are stainless steel, so they're strong and durable. They also won't rust when exposed to water.
Wrap saws with nylon handles around your wrist for extra leverage and comfort when making tough cuts.
Cable Saws for PVC Pipe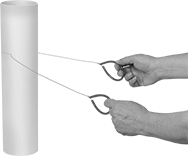 Melt through irrigation, plumbing, and electrical grade PVC pipe with heat friction. The cutting cable is flexible stainless steel without teeth. Use this saw in hard-to-reach areas.
Overall
Cable
For Pipe


Dia.

Material
Handle
Material
Flexibility
Each
32"
24"
Up to 8"
Stainless Steel
Rubber
Flexible
00000000
00000