High-Voltage

Continuous-Flex

Flat Cable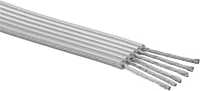 Use For:

Automation,

Continuous Motion
Continuous Flex
Temperature

Range:

-85° to 325° F

Insulation:

Silicone Rubber
Rated to 17,000 volts AC or higher, this cable is often used in oil drilling, robotics, and festoon systems. It withstands continuous motion without degrading data or signal transmission. With a flat shape, it's good for tight spaces. It meets UL 94 V-0 for flame retardance.
Bend radius is the point to which the cable will bend without being damaged. It is measured from the center of the bend to the edge of the cable. The smaller the measurement, the tighter the bend.
Wire


Ga.

No.


of
Wires
Cable
AWG

Current

Wd.

Thick.

Bend
Radius
Outer
Insulation
Color
Environment
Environmental
Rating
Specifications
Met

Length,




ft.

1-99

100-Up

Stranded Wire

20

8
20/8

13 A @ 86° F
0.67"
0.12"
1.2"
Clear
Clean Room

Fed. Std. Class 1, ISO Class 3
UL Recognized Component, CSA Certified, UL 94 V-0
00000000
00000
00000
Thermostat Cable

Use For:

Buildings
Bend and Stay
Temperature

Range:

0° to 140° F

Insulation:




Outer:

PVC Plastic


Inner:

Polyethylene Plastic
Hook up thermostats, air-conditioning units, and other low-voltage equipment. This cable is designated CL2 so it has flame-resistant insulation. The wires are solid so it stays in the shape you bend it.
Continuous-Flex

Data Communication Cable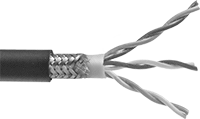 Use For:

Automation,

Continuous

Motion,

Data,

Interference Shielding
Continuous Flex
Temperature

Range:


PVC Plastic

Insulation:

25° to 155° F


TPE Rubber

Insulation:

-30° to 210° F
Often used to send signal and data to order pickers and cranes, this cable withstands continuous motion applications without degrading data or signal transmission. In addition to a layer of braid shielding, it has twisted pairs of wires that cancel signal interference from multiple transmission lines. Suitable for clean rooms, they release minimal particles into the air. All are CE marked as compliant with European health, safety, and environmental standards.
Cable with PVC insulation is for indoor use.
Cable with TPE rubber insulation is for outdoor use and resists coolant, oil, and UV light.
Wire


Ga.

No.


of
Wires
Cable
AWG

OD
Bend
Radius
Outer
Insulation
Color
Environmental
Rating
Specifications
Met

Length,




ft.

1-99

100-Up

Shielded Stranded Wire with PVC Plastic Insulation

300V AC

20

8
20/8

0.37"
2.78"
Gray
ISO Class 1

UL Recognized Component, CE Marked, C-UL Recognized Component, Flame Rated VW-1, NFPA 79
0000000
00000
00000

Shielded Stranded Wire with TPE Rubber Insulation

300V AC

20

8
20/8

0.39"
2.52"
Blue
ISO Class 1

CE Marked

0000000
00000
0000