About Industry Designation for Cable Insulation

Use For:

Power

Supply,

Outdoors
Flexible
Temperature

Range:

-40° to 190° F

Insulation:

EPDM Rubber
Often used in mining equipment, submersible pumps, and drilling rigs, this cable withstands 2,000 volts AC/DC. The EPDM insulation resists abrasion, so it can be pulled over rough surfaces without damaging the wires inside.
Power Cords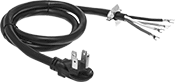 90° Elbow
Plug ×
Spade Terminals


Cords with a 90° elbow plug fit flush against a wall outlet, so they fit behind machinery or in areas where space is tight.
SRDT cords are for use with high-current equipment, such as ranges and dryers.
Wire
Gauge

Current,


A
Voltage

Lg.,




ft.

OD

Wd.

Insulation
Material
Industry
Designation

Temp.




Range,




°F

Specifications
Met
Color
Each

90°

Elbow NEMA

10-50

Plug × Spade Terminals

8, 6
50
125V AC/250V AC
4
__
1.03"
PVC Plastic
SRDT

0° to 140°
UL Listed

Gray
000000000
000000
8, 6
50
125V AC/250V AC
6
__
1.03"
PVC Plastic
SRDT

0° to 140°
UL Listed

Gray
00000000
00000

90°

Elbow NEMA

14-50

Plug × Spade Terminals

8, 6
50
125V AC/250V AC
6
0.8"
__
PVC Plastic
SRDT

0° to 140°
UL Listed

Black
00000000
00000