Adjustable-Height

Workstations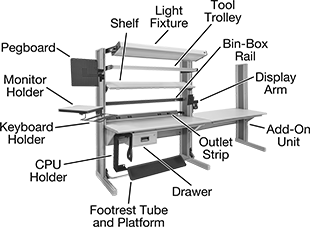 Complete Unit Shown with
Add-On
and Accessories
(Sold Separately)
Create a customized work area by adding accessories. These workstations are often used for small-parts assembly.
Static-dissipative tops, shelves, and bin-box rails have a surface that dissipates static to protect sensitive electronic equipment from damage.
Monitor holders rotate 360° on a swing arm.
Keyboard holders attach to the bottom of the monitor holder.
CPU holders suspend your CPU on a platform below the workstation to free up space. They slide out for access to the CPU.
Outlet strips have six outlets, a power switch, and a circuit breaker.
Drawers mount under the work surface and have a keyed lock.
Light fixtures adjust in any direction. They use two tubular T8 fluorescent bulbs (not included).
Shelves tilt forward and backward 45°.
Bin box racks contain four 13-in. rails, and can hold up to 12 four-in.-wide × three-in.-tall bin boxes.
Bin-box rails accept hanging bin boxes.
Move tools along the length of workstations with tool trolleys. Trolleys come with one hanger; additional hangers sold separately.
Footrest tubes span the length of workstations for foot support. Use footrest platforms along with footrest tubes for additional support.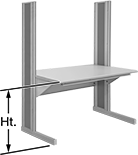 Complete Unit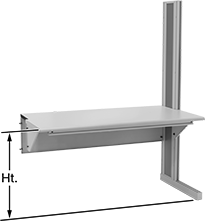 Gray Top Color

Blue Frame Color
Wd.

Dp.

Ht.

Ht.

O'all




Cap.,




lbs.

Color

Cap.,




lbs.

Assembled
or
Unassembled
Each
Each
Each

Complete Unit

Plastic Laminate Top with Blue

Powder-Coated

Steel Frame

60"
30"
72"
21"-72"
750
Gray
500
Unassembled
00000000
000000000
00000000
0000000
00000000
0000000
72"
30"
72"
21"-72"
750
Gray
500
Unassembled
00000000
00000000
00000000
000000
00000000
000000

Static-Dissipative

Plastic Laminate Top with Blue

Powder-Coated

Steel Frame

60"
30"
72"
21"-72"
750
Gray
500
Unassembled
00000000
00000000
00000000
000000
00000000
000000
72"
30"
72"
21"-72"
750
Gray
500
Unassembled
00000000
00000000
00000000
000000
00000000
000000

Plastic Laminate Top with Blue

Powder-Coated

Steel Frame

60"
30"
72"
21"-72"
750
Gray
500
Unassembled
00000000
00000000
00000000
000000
00000000
000000
72"
30"
72"
21"-72"
750
Gray
500
Unassembled
00000000
00000000
00000000
000000
00000000
000000

Static-Dissipative

Plastic Laminate Top with Blue

Powder-Coated

Steel Frame

60"
30"
72"
21"-72"
750
Gray
500
Unassembled
00000000
00000000
00000000
000000
00000000
000000
72"
30"
72"
21"-72"
750
Gray
500
Unassembled
00000000
00000000
00000000
000000
00000000
000000
Accessories for Workstations
Length
Width
Height
Each

Bin-Box

Racks with Swing Arms

For Workstations with 60" and 72" Overall Width
__
12"
14

3/8

"
00000000
0000000

CPU Holders

For Workstations with 60" and 72" Overall Width
__
12"
22"
00000000
000000

Drawers

For Workstations with 60" and 72" Overall Width
__
15"
6

1/2

"
00000000
000000
For Workstations with 60" and 72" Overall Width
__
15"
12

1/2

"
00000000
000000

Flat Panel Display Arms

For Workstations with 60" and 72" Overall Width
__
__
__
00000000
000000

Footrest Platforms

For Workstations with 60" and 72" Overall Width
36"
36"

3/4

"
00000000
000000

Footrest Tubes

For Workstations with 60" Overall Width
__
60"
1"
00000000
000000
For Workstations with 72" Overall Width
__
72"
1"
00000000
000000

Keyboard Holders

For Workstations with 60" and 72" Overall Width
__
18"
2

3/4

"
00000000
00000

Light Fixtures

For Workstations with 60" Overall Width
56"
11"
3"
00000000
000000
For Workstations with 72" Overall Width
68"
13

1/2

"
3"
00000000
000000

Monitor Holders

For Workstations with 60" and 72" Overall Width
__
15"
__
00000000
000000

Outlet Strips

For Workstations with 60" Overall Width
__
52"
3

1/2

"
00000000
000000
For Workstations with 72" Overall Width
__
64"
3

1/2

"
00000000
000000

Pegboards

For Workstations with 60" and 72" Overall Width
__
12"
16"
00000000
000000

Tool Hangers

For Workstations with 60" and 72" Overall Width
__
__
__
00000000
00000

Tool Trolleys

For Workstations with 60" Overall Width
__
__
2

1/4

"
00000000
000000
For Workstations with 72" Overall Width
__
__
2

1/4

"
00000000
000000