Folding Table Legs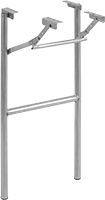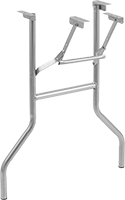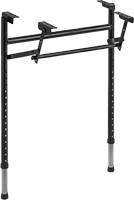 Adjustable Height
Use these legs to make or repair a folding table.
Fixed-height legs are standard table height.
Adjustable-height legs raise up to 14" to go from standard table height to workbench height, making them suitable for seated or standing tasks. Push in a button and slide the legs to adjust height in 1" increments. Legs are chrome plated at the bottom.
For

Max.


Top


Wd.

For
Top


Dp.

Leg


Dia.

Ht.

Dp.

No.


Required
per Top
Material
Color

Cap.

per


Leg,




lbs.

Cap.

per
Leg
@

Ht.

Mounting
Fasteners
Included

No.


of

Dia.

Assembled
or
Unassembled
Each

Fixed Height

Straight

96"
18"-20"
1"
29"
14"
2
Zinc-Plated Steel
__
125
__
No
12

1/4

"
Assembled
0000000
000000
96"
24"-30"
1"
29"
20"
2
Zinc-Plated Steel
__
125
__
No
12

1/4

"
Assembled
0000000
00000

Curved

96"
30"-36"
1"
29"
24"
2
Zinc-Plated Steel
__
125
__
No
12

1/4

"
Assembled
0000000
00000
96"
36"-42"
1"
29"
31"
2
Zinc-Plated Steel
__
125
__
No
12

1/4

"
Assembled
0000000
00000
96"
42"-48"
1"
29"
37"
2
Zinc-Plated Steel
__
125
__
No
12

1/4

"
Assembled
0000000
00000

Adjustable Height

Straight

96"
24"-30"
1"
24

1/2

"-38

1/2

"
20"
2
Powder-Coated Steel
Black
__
125 lbs. @ 24

1/2

", 50 lbs. @ 38

1/2

"
No
12

1/4

"
Assembled
0000000
00000
96"
36"-42"
1"
24

1/2

"-38

1/2

"
30"
2
Powder-Coated Steel
Black
__
125 lbs. @ 24

1/2

", 50 lbs. @ 38

1/2

"
No
12

1/4

"
Assembled
0000000
00000