Folding Tables
A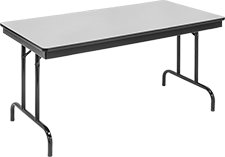 B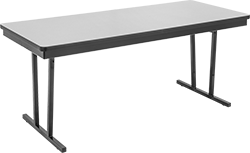 C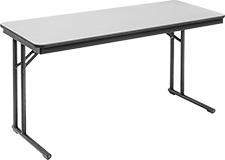 D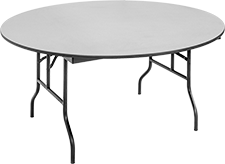 F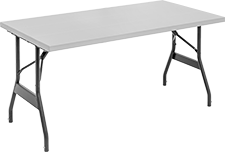 E

Dark Brown
Woodgrain
Plastic Laminate

Gray Plastic Laminate

Light Brown
Woodgrain
Plastic Laminate

White Plastic

Gray Aluminum
These tables have a fixed height. All are standard table height.
Plastic laminate tables have an extra-smooth surface, making them easy to clean. Plastic tables are lightweight, easy to clean, and resistant to impact, stains, and chemicals. Aluminum tables are lightweight, resist corrosion, and won't warp after extended exposure to moisture, heat, and sunlight.
Style C are often used in conference rooms. They have leveling feet to compensate for uneven floors.
Style D provide added leg room for working while seated.
Style

Ht.

Dia.

Wd.

Dp.

Overall


Capacity,




lbs.

Gauge

Thick.

Frame
Material
Assembled
or
Unassembled
Choose
a Top
Color
Each

Plastic Laminate

A
29"
__
48"
24"
250
__

5/8

"
Painted Steel
Assembled
000000
0000000
A
29"
__
60"
30"
250
__

5/8

"
Painted Steel
Assembled
000000
000000
A
29"
__
72"
18"
250
__

5/8

"
Painted Steel
Assembled
000000
000000
A
29"
__
72"
30"
250
__

5/8

"
Painted Steel
Assembled
000000
000000
A
29"
__
72"
36"
250
__

5/8

"
Painted Steel
Assembled
000000
000000
A
29"
__
96"
30"
250
__

5/8

"
Painted Steel
Assembled
000000
000000
A
29"
__
96"
36"
250
__

5/8

"
Painted Steel
Assembled
000000
000000
B
30"
__
60"
30"
700
__

3/4

"
Painted Steel
Assembled
000000
000000
B
30"
__
72"
30"
700
__

3/4

"
Painted Steel
Assembled
000000
000000
B
30"
__
72"
36"
700
__

3/4

"
Painted Steel
Assembled
000000
000000
B
30"
__
96"
30"
700
__

3/4

"
Painted Steel
Assembled
000000
000000
B
30"
__
96"
36"
700
__

3/4

"
Painted Steel
Assembled
000000
000000
C
30"
__
72"
30"
900
__
1

1/4

"
Painted Steel
Assembled
000000
000000
C
30"
__
96"
30"
900
__
1

1/4

"
Painted Steel
Assembled
000000
000000
D
30"
__
60"
18"
1,000
__

3/4

"
Powder-Coated Steel
Assembled
000000
000000
D
30"
__
60"
24"
1,000
__

3/4

"
Powder-Coated Steel
Assembled
000000
000000
D
30"
__
72"
18"
1,000
__

3/4

"
Powder-Coated Steel
Assembled
000000
000000
D
30"
__
72"
24"
1,000
__

3/4

"
Powder-Coated Steel
Assembled
000000
000000
D
30"
__
96"
24"
1,000
__

3/4

"
Powder-Coated Steel
Assembled
000000
000000
F
29"
48"
__
__
1,000
__

5/8

"
Powder-Coated Steel
Assembled
0000000
000000
F
29"
60"
__
__
1,000
__

5/8

"
Powder-Coated Steel
Assembled
0000000
000000
F
29"
72"
__
__
1,000
__

5/8

"
Powder-Coated Steel
Assembled
0000000
000000

Plastic

A
29"
__
48"
24"
250
__
2

1/2

"
Painted Steel
Assembled
White
0000000
000000
A
29"
__
60"
30"
250
__
2

1/2

"
Painted Steel
Assembled
White
0000000
000000
A
29"
__
72"
18"
250
__
2

1/2

"
Painted Steel
Assembled
White
0000000
000000
A
29"
__
72"
30"
250
__
2

1/2

"
Painted Steel
Assembled
White
0000000
000000
A
29"
__
96"
30"
250
__
2

1/2

"
Painted Steel
Assembled
White
0000000
000000
F
29"
60"
__
__
250
__
2

1/2

"
Painted Steel
Assembled
White
0000000
000000
E
29

1/2

"
__
60"
18"
3,000
12
0.081"
Powder-Coated Aluminum
Assembled
Gray
0000000
000000
E
29

1/2

"
__
60"
30"
3,000
12
0.081"
Powder-Coated Aluminum
Assembled
Gray
0000000
000000
E
29

1/2

"
__
72"
30"
3,000
12
0.081"
Powder-Coated Aluminum
Assembled
Gray
0000000
000000
E
29

1/2

"
__
96"
30"
3,000
12
0.081"
Powder-Coated Aluminum
Assembled
Gray
0000000
000000