Static-Dissipative

Laminate Workbench Tops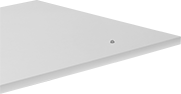 Straight

Bullnose

Beige
Blue
These tops have a grounding snap and a laminate surface that dissipates static to protect electronic components from electrostatic discharge. Tops are easy to clean and resistant to stains, oils, and diluted chemicals.
The 96" wide workbench tops require at least three workbench legs.
For technical drawings and 3-D models, click on a part number.
Wd.

Dp.

Cap.,




lbs.

Material

Thick.

Electrical
Properties
Surface


Resistivity,




ohms/sq.

Mounting
Fasteners
Included
Features
Choose
a
Color
Each

Straight Edge

60"
30"
950
Plastic Laminate
1

1/4

"
Static Dissipative
106-109
Yes

3/8

" Grounding Snap
00000000
0000000
72"
30"
1,150
Plastic Laminate
1

1/4

"
Static Dissipative
106-109
Yes

3/8

" Grounding Snap
00000000
000000
72"
36"
1,375
Plastic Laminate
1

1/4

"
Static Dissipative
106-109
Yes

3/8

" Grounding Snap
00000000
000000
96"
30"
1,525
Plastic Laminate
1

1/4

"
Static Dissipative
106-109
Yes

3/8

" Grounding Snap
00000000
000000
96"
36"
1,825
Plastic Laminate
1

1/4

"
Static Dissipative
106-109
Yes

3/8

" Grounding Snap
00000000
000000

Bullnose Edge

60"
30"
950
Plastic Laminate
1

1/4

"
Static Dissipative
106-109
Yes

3/8

" Grounding Snap
Beige
0000000
000000
72"
30"
1,150
Plastic Laminate
1

1/4

"
Static Dissipative
106-109
Yes

3/8

" Grounding Snap
Beige
0000000
000000
72"
36"
1,375
Plastic Laminate
1

1/4

"
Static Dissipative
106-109
Yes

3/8

" Grounding Snap
Beige
0000000
000000
96"
30"
1,525
Plastic Laminate
1

1/4

"
Static Dissipative
106-109
Yes

3/8

" Grounding Snap
Beige
0000000
000000
96"
36"
1,825
Plastic Laminate
1

1/4

"
Static Dissipative
106-109
Yes

3/8

" Grounding Snap
Beige
0000000
000000