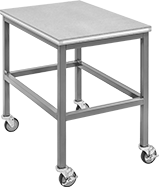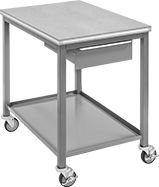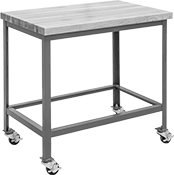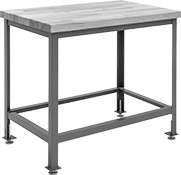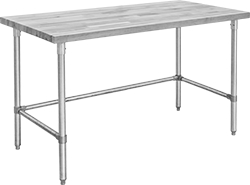 Composite Wood

Maple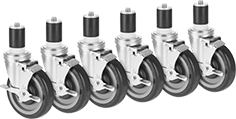 Optional Casters
The wood top on these tables is nonconductive, resists impact, and can be sanded and refinished. Use them as a work surface for machines and equipment.
30" and 32" high tables are standard table height. 35" and 36" high tables are the same height as most workbenches, making them a comfortable height for most standing tasks.
Composite wood tables resist stains, oil, and chemicals. Maple tables consist of solid pieces of wood that are glued together to ensure durability.
Stationary tables have leveling feet to compensate for uneven floors.
Style D meet NSF/ANSI 2 for use in food service.
Style

Ht.

Wd.

Dp.

Top
Shelf
Drawer

O'all

Material

Thick.

Foot
Type
Assembled
or
Unassembled
Environment
Specifications
Met
Each

Pkg.




Qty.

Pkg.

Mobile

A
30"
18"
24"
1,000
__
__
1,000
Vinyl-Coated Composite Wood
1

3/4

"
Caster
Assembled
__
__
00000000
0000000
__
000000
00
A
30"
24"
36"
1,000
__
__
1,000
Vinyl-Coated Composite Wood
1

3/4

"
Caster
Assembled
__
__
00000000
000000
__
000000
00
A
36"
18"
24"
1,000
__
__
1,000
Vinyl-Coated Composite Wood
1

3/4

"
Caster
Assembled
__
__
00000000
000000
__
000000
00
A
36"
24"
36"
1,000
__
__
1,000
Vinyl-Coated Composite Wood
1

3/4

"
Caster
Assembled
__
__
00000000
000000
__
000000
00
B
30"
18"
24"
650
250
100
1,000
Vinyl-Coated Composite Wood
1

3/4

"
Caster
Assembled
__
__
00000000
000000
__
000000
00
B
30"
24"
36"
650
250
100
1,000
Vinyl-Coated Composite Wood
1

3/4

"
Caster
Assembled
__
__
00000000
000000
__
000000
00
B
36"
18"
24"
650
250
100
1,000
Vinyl-Coated Composite Wood
1

3/4

"
Caster
Assembled
__
__
00000000
000000
__
000000
00
B
36"
24"
36"
650
250
100
1,000
Vinyl-Coated Composite Wood
1

3/4

"
Caster
Assembled
__
__
00000000
000000
__
000000
00
C
35"
24"
24"
1,000
__
__
1,000
Oil-Coated Maple
1

3/4

"
Caster
Assembled
__
__
0000000
000000
__
000000
00
C
35"
36"
24"
1,000
__
__
1,000
Oil-Coated Maple
1

3/4

"
Caster
Assembled
__
__
0000000
000000
__
000000
00
C
35"
48"
24"
1,000
__
__
1,000
Oil-Coated Maple
1

3/4

"
Caster
Assembled
__
__
0000000
000000
__
000000
00

Stationary

C
32"
24"
24"
2,000
__
__
2,000
Oil-Coated Maple
1

3/4

"
Leveling
Assembled
__
__
0000000
000000
__
000000
00
C
32"
36"
24"
2,000
__
__
2,000
Oil-Coated Maple
1

3/4

"
Leveling
Assembled
__
__
0000000
000000
__
000000
00
C
32"
48"
24"
2,000
__
__
2,000
Oil-Coated Maple
1

3/4

"
Leveling
Assembled
__
__
0000000
000000
__
000000
00
D
35"
48"
30"
800
__
__
800
Mineral-Oiled Maple
1

1/2

"
Leveling
Unassembled
Food Industry
NSF/ANSI 2

0000000
000000
4
0000000
0000000
D
35"
60"
30"
800
__
__
800
Mineral-Oiled Maple
1

1/2

"
Leveling
Unassembled
Food Industry
NSF/ANSI 2

0000000
000000
4
0000000
000000
D
35"
72"
30"
800
__
__
800
Mineral-Oiled Maple
1

1/2

"
Leveling
Unassembled
Food Industry
NSF/ANSI 2

0000000
00000000
4
0000000
000000
D
35"
72"
36"
800
__
__
800
Mineral-Oiled Maple
1

1/2

"
Leveling
Unassembled
Food Industry
NSF/ANSI 2

0000000
00000000
4
0000000
000000
D
35"
96"
30"
1,000
__
__
1,000
Mineral-Oiled Maple
1

1/2

"
Leveling
Unassembled
Food Industry
NSF/ANSI 2

0000000
00000000
4
0000000
000000
D
35"
96"
42"
1,000
__
__
1,000
Mineral-Oiled Maple
1

1/2

"
Leveling
Unassembled
Food Industry
NSF/ANSI 2

0000000
00000000
4
0000000
000000